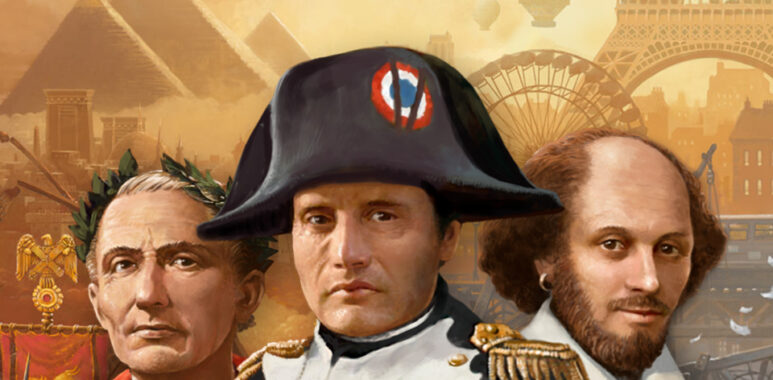 Info
Making Of
our game designers
Vlaada Chvatil
Through the Designer's Notes, Part 3 – Vlaada Chvatil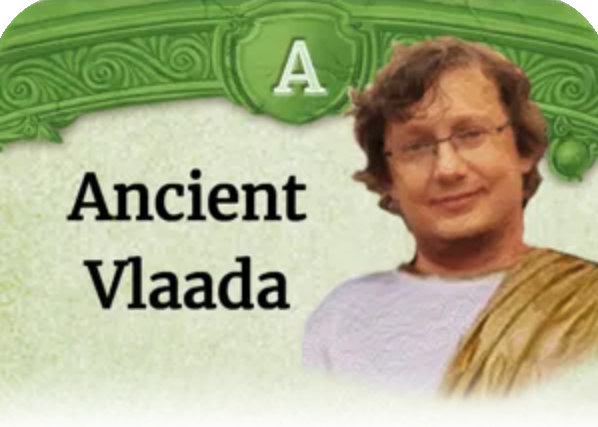 You missed the previous parts?
Click here for Part 1, or Part 2. 😉
When I started this blog, I honestly had no idea it was going to be this long. It was mainly intended as a short intro to the Designer Notes for the expansion cards we're adding to the web game. But as I was browsing through the old stories, nostalgia kicked in and the text took on a life of its own. Let's see where it takes us today.😊
Through Graenaland to America
Since the last millennium, gamers from the Czech Republic have been visiting the "Spiel" fair in Essen – on the hunt for new games, to participate in the "Europe Masters" tournament and simply to celebrate their love of gaming. But in 2006 everything was different. There was a "Czech" booth in Essen! And one of the games at this booth was Through the Ages. Only a few hundred copies, no great graphics or great production quality, but made with love and hope.
Well, it was a small booth in a small hall and they usually don't attract much attention. But Czech Board Games was an exception and the small booth was crowded from the first day. Because of Through the Ages? No, because of another game, called Graenaland.
This was another one of my games, and we had finished it in time to send a few copies to reviewers in advance. Fortunately for us, Rick Thornquist, certainly one of the most influential reviewers of his time, thought it was really good. He liked it so much that he put it at #1 on his "most anticipated games" list for food. That, of course, drew a lot of attention to this little stand of unknown Czechs. Curious people came to check out Graenaland, and discovered Through the Ages. Thank you, good old Graenaland! 😊
One of those people was Jeff DeBoer of Funagain Games. He bought a copy of Through the Ages nd played it at the hotel that night. He was back the next day with a proposal to publish it. Woah, my first business meeting with an American publisher!
When I was still working on video games, I had a few formal meetings with suits from the video games industry, so I was curious to see how that would play out in the board game space. And I have to say, I loved it from the start. Jeff and I were just sitting on a stoop in the Essen exhibition hall, next to a full trash can, talking amicably about my game. And that meeting then led to the US edition of Through the Ages.
Zurück zu den Tschechen (und Polen, und einem Franzosen)
While the US edition was being prepared, the first, amateurish printing of Through the Ages in the Czech Republic sparked something. Something that would have a huge impact on my life and the lives of those around me, and thus indirectly on many gamers around the world. Czech Games Edition was born. During the hundreds of hours I spent working on the first edition of TtA, I realized that I wanted to do this for a living. And so, since 2007, CGE has been visiting Essen every year with new games in tow (curse on you, you stupid virus, for interrupting this beautiful tradition).
Well, the theme of this blog is Through the Ages, and it was produced in China at that time and published by an American company. But at the same time something important happened for the future of the game here in the heart of Europe.
A couple of smaller publishers were interested in versions in their local languages, and since these were mostly smaller runs, I agreed with the American publisher that this would be handled by Czech Games Edition. One of our first partners was a Polish publisher who wanted to add something special to the game that would convince Polish players to want their own version of the game (such a complex game had a limited audience and many of them already had the English edition).
So they asked us if we could add some additional cards with famous Polish personalities and places in history. What a great idea, said the Czech publisher. And then the Spanish one. They all came up with ideas for their own national bonus maps, and we balanced them, adjusted them a bit, and added them to their respective editions.
And here we come to the Frenchman I promised in the headline – Nicolas d'Halluin, the author of boardgaming-online.com, the first site where you could comfortably play Through the Ages online. Besides all the great work on the online version, he had also implemented the national bonus cards. He and the community around his server invented even more extra cards for his online platform.
Why is this so important? I always knew that Through the Ages would benefit from a wider selection of wonders and leaders, but I had never taken that step – I was aware that it would be a tremendous effort to rebalance the game with all these new cards. But after playing a few games with a random mix of leaders and wonders on Boardgaming-online, I realized how much it actually added to the game and decided it was worth the effort, even if it cost me a year. It ended up being a few more years, but yeah, I still think it was worth it. 😊

– Be continued –
Originally published on blog.czechgames.com,
on 5th June 2020.