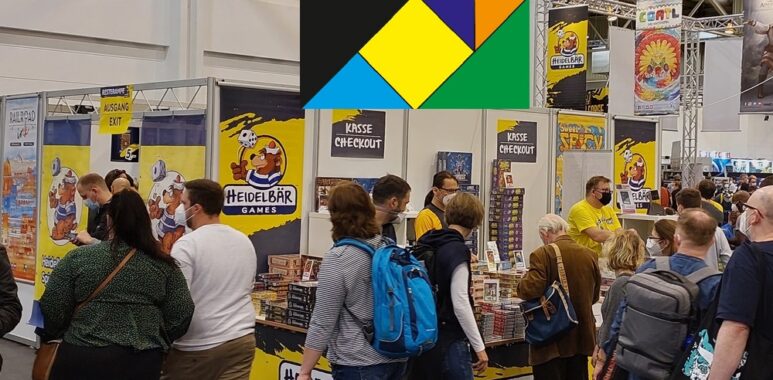 Community
Czech Games Edition News EU
Events
HeidelBAER News
Horrible Guild News
Mebo News
More Game-News
News
Promotion-Highlights
Synapses Games News
From Oct. 5th to Oct. 9th. the exhibition halls in Essen opened their doors to game enthusiasts from all over the world. For the almost 147,000 visitors, there were numerous games from over 950 exhibitors from 56 countries to marvel at. The main focus was on more than 1,500 new games, which set a new record for the fair.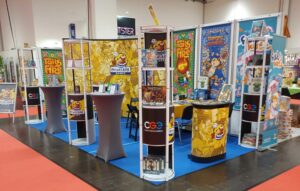 We were present on all days with our booth, where numerous games could be played and purchased. In addition to our normal booth in Hall 1 (1C121), we were also represented with a booth at the Novelty Show, where you could take a first look at the new games. Among them were our own exciting games like Animal Poker, Sweet & Spicy, Hungry Monkey, Fish & Katz and Tails on Fire. The US release of Fish & Katz and Tails on Fire is planned for 2023.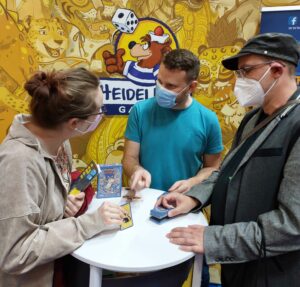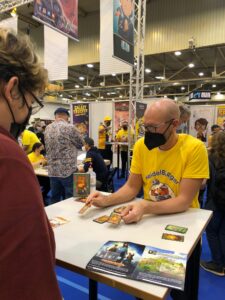 On Thursday the game authors Thomas Sellner (Tails on Fire) and Erik A. Sundén (Hungry Monkey) were at our booth and presented and explained their games. Many visitors took advantage of this unique opportunity to have the game explained by the author and to get to know the person behind the game.
Numerous game enthusiasts came to our 12 demo tables to learn and play our games. Among them were Starship Captains (CGE), Fish & Katz, Draw the line (Synapses Games), Betta (Synapses Games), Tails on Fire, Spicy, Sweet & Spicy, Hungry Monkey, Galaxy Trucker (CGE), Dungeon Fighter (Horrible Guild), Similo (Horrible Guild) and Quest (Indie Boards & Cards). Throughout the show, the tables were always very popular and were left in good spirits. Our card game Hungry Monkey was so popular that it was sold out after only 3 days.
Beside the normal store there was again our famous "Schlauch" full of great offers. Although not as long as in Heidelberg times, there were always queues and bargain hunters that got their money's worth.
At the novelty show, visitors had the opportunity to take a look at games that will be released (in German) after the fair: Here were games such as Assasin's Creed®: Brotherhood of Veniced (german version, Synapses Games) and the racing simulation Rallyman GT with all expansions (german version, Holy Grail Games), 28 (MeBo), Similo Fantastic Beasts (Horrible Guild), Waste Knights: Outback Stories or the This War of Mine – Expansions: Tales from the Ruins and Days of Siege (all german version, Galakta).
Another fair feature was the Similo Board Games promo game. Our italian partner Horrible Guild, together with us and many other companies, brought out this exciting variant of the popular Similo series exclusively for the Spiel. In keeping with the occasion of the fair, the theme of this variant was board games. Thus, all participating publishers were able to perpetuate one game of their new releases on a game card.
We would like to thank you very much for your visit at our booth and the interest in our games as well as our numerous helpers. We are already looking forward to next year!