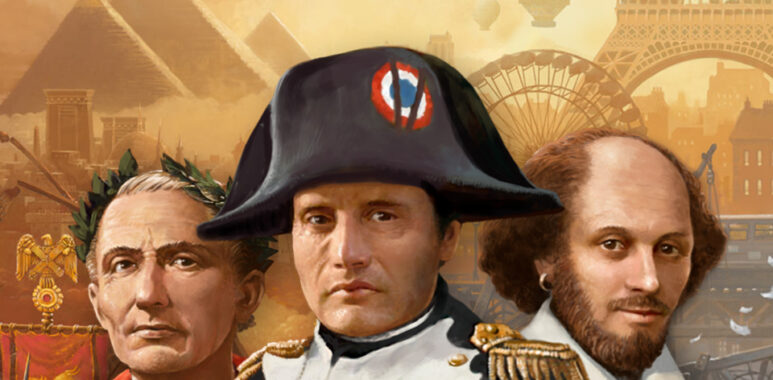 Czech Games Edition News EU
News
Second Through the Ages Online World Championship launched
The first round of the second Through the Ages online world championship begins today. By the registration deadline on January 10, 912 people have registered to become world champion or world champion. The tournament will be played over 6 rounds and each round will last approximately 5–6 weeks. The final will be held on September 3 and should be finished before the end of October.
Here you can read the interview with Wawrzyniec, last year's winner.
Since 2017, the app implementation of the popular board game is available for Google Play, App Store, Steam and GOG.com. So you can play the game easily on the go or with players from all over the world. In addition to a real-time duel, you can also play asynchronously over several days.
Of course, the great board game continues to enjoy great popularity and is listed on Boardgamegeek on rank 13 of the best games. At HeidelBÄRen, Through the Ages has been available in German since 2015, and the expansion Through the Ages: New Leaders and Wonders since 2019. You can buy the game via our online shop or in well-stocked local retailers. The game represents a revised version of the game already released in 2006. While the basic mechanics have remained largely the same, the new game features a revised and more modern design
Through the Ages – The Game
Through the Ages is by Vlaada Chvátil and is suitable for 2 – 4 people. In the expert game, you take control of a civilization and lead it through four ages. You start in antiquity and play until modern times. In order for your civilization to grow steadily larger and stronger, you'll have to take some aspects into account. For example, you need resources for your expansion and food for your people. Thus, cultivating fields and developing mines is a central part of your actions. But you also have to be active politically and militarily. You can change the form of government to unlock new actions. Build an army, conquer colonies or form alliances – there are various ways to let your civilization rise.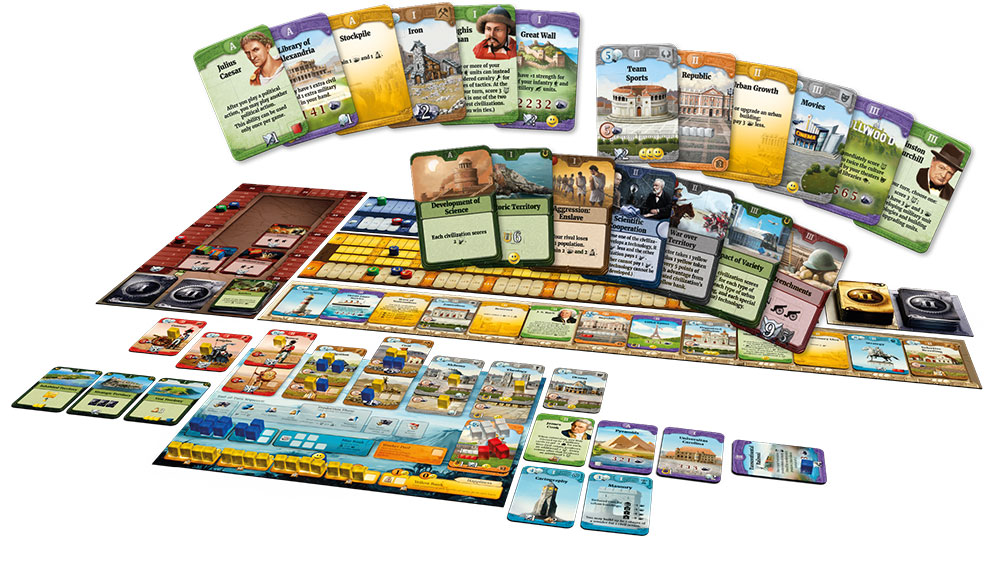 In the course of the game, you advance to new ages. Each change will bring you some benefits, but also some risks, since benefits from the respective era will also be lost. During the game, you can choose different historical figures to lead your civilization. But choose your leaders wisely! A powerful economy, advanced technology, satisfied citizens, an inspired government, a strong military – your civilization must compete in many areas. Even though your people should be leaders in some areas, it is always the weaknesses of a civilization that make it fall into oblivion. Adapt your strategy to the circumstances and keep your eyes ever vigilant on your borders, so that you don't offer your rivals any nakedness.
But be aware that the success of a civilization is measured by other things: The most influential culture is the one that will eventually win the day.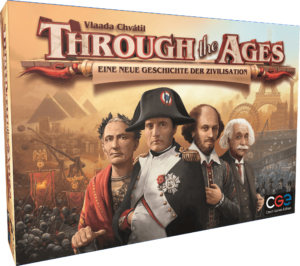 Through the Ages is for 2–4 persons from 14 years and lasts about 120 minutes.
The expert game is by Vlaada Chvátil and includes 4 game boards,1 cardboard, 1 culture board, 1 science board, 1 Current Age board, 179 civilian cards, 150 military cards, 250 game pieces, 28 wooden markers, 4 overview boards, 1 rule booklet and 1 manual.