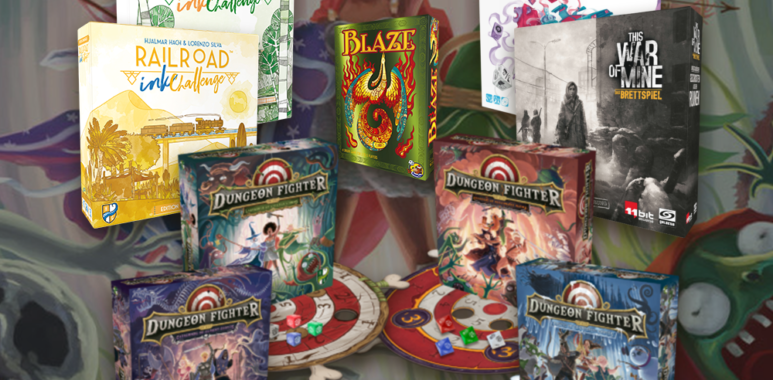 Czech Games Edition News EU
HeidelBAER News
Horrible Guild News
Mebo News
News
Product announcement for 2021
Here we show you a novelty overview of our games and the games of our partners for the year 2021!
BLAZE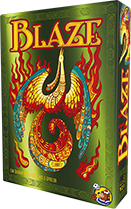 In BLAZE, the players try to get rid of their cards, but here they have to achieve this in an extremely sophisticated and unusual way. The player who plays out plays together with the next but one player, which leads to constantly changing alliances. In the end, the player who collects the most feathers wins.
MATCH 5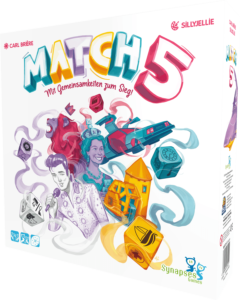 In Match 5 you connect two topics with a matching term. If you write down the same term as someone else, it's worth extra points! You have 3 minutes to find a connection for each of the 10 cube combinations on the block. You play 3 rounds. Whoever has the most points at the end wins!
RAILROAD INK CHALLENGE: EDITION BLATTGRÜN & SONNENGELB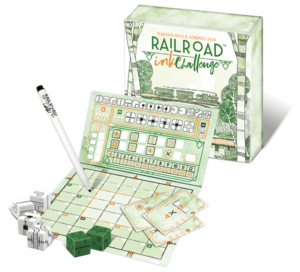 Railroad Ink Challenge is a "roll & write" game that combines theme and fun. Players must draw roads and rails on their game board by cleverly choosing dice to build the most extensive transportation network possible.
The new challenge titles follow the same principle as the two previous games Railroad Ink: Edition Tiefblau and Railroad Ink: Edition Knallrot, but put a focus on the interaction between the players.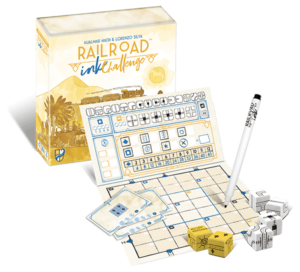 There are Destination cards, the combination of which will always spark new races between the players. New route cubes with double curve, dead end and branching change the possibilities of the route network. And for the first time, special locations along the transport network bring special effects such as doubling a die, special routes or bonus points.
DUNGEON FIGHTER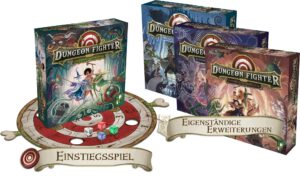 Dungeon Fighter is a whimsical skill game of a special kind, where you fight your way through a dungeon as a hero.
The COMPLETELY revised and expanded new edition consists of the introductory game "Das Labyrinth der launischen Lüfte", which offers the classic Dungeon Fighter experience especially for new heroes, and three independently playable expansions with special themes and game material. All four boxes offer a full game each, but you can also take your favorite heroes, weapons and monsters with you to the next dungeon.
THIS WAR OF MINE: Geschichten aus den Ruinen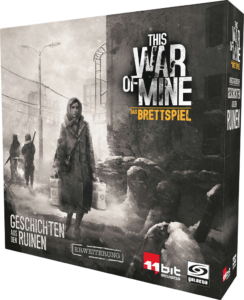 The expansion GESCHICHTE AUS DEN RUINEN contains small and large modules, which can be added to the basic game. The modules consist of new cards, miniatures, a market and much more. In addition, there are 5 new scenarios which give you valuable rewards after successful completion and over 450 new story sections. The version is compatible with the already released edition of THIS WAR OF MINE base game in German!
All featured games are now available for pre-order in our store!
Novelties HeidelBÄR Games 2021 (with Heidelberger Spieleverlag) Overview
2021 – Q1
Railroad Ink Challenge Blattgrün & Sonnengelb  (Horrible Guild)
Railroad Ink Dice Packs (Horrible Guild)
Match5 (Synapses Games/Heidelberger)
2021 – Q2
Blaze (HeidelBÄR Games)
28 (MeBo Games)
2021 – Q3
Similo "to be announced" (Horrible Guild)
Similo Halloween (Horrible Guild)
2021 – Q4
This War of Mine 1. expansion (Galakta/Heidelberger)
Dungeon Fighter: Das Labyrinth der launischen Lüfte (Horrible Guild)
Dungeon Fighter: Der Vulkan der vielfältigen Verbrennungen (Horrible Guild)
Dungeon Fighter: Die Gruft der griesgrämigen Geister (Horrible Guild)
Dungeon Fighter: Die Festung des flutschigen Frosts (Horrible Guild)