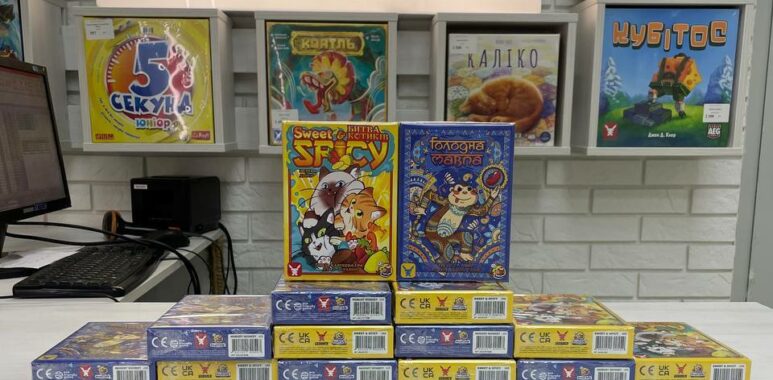 Hungry Monkey and Sweet & Spicy now also available in Ukraine
From now on, our card games Sweet & Spicy and Hungry Monkey are available in Ukrainian at our Ukrainian partner Geekach. We as HeidelBÄR Games work closely with many international partners to make our games available internationally. Nevertheless, the partnership with Geekach is a very special one due to the war. We try to support our partner in the best possible way and waive the profits from the sales of the two games.
Earlier this year, the Russian war against Ukraine began and has changed the lives of millions and cost many lives. Even though the brutal everyday life of war continues to define the lives of many people, many Ukrainians try to continue their lives as normally as possible.
This is also the wish of our Ukrainian partner Geekach, which continues its publishing work and online store despite the war. As HeidelBÄR Games we are of course very proud that through this cooperation, with Sweet & Spicy and Hungry Monkey, two of our most popular card games are also available in Ukraine for the first time. In the partnership with Geekach, we and the two authors completely waive our profits in order to support our partner Geekach in the best possible way and to stand by them in these difficult times.
Even in the current situation, Geekach continues to hold regular game meetings in Vinnytsia, Ternopil and Irpin. Games can help people come together and escape their everyday lives for a moment.
Sweet & Spicy is for 2-6 people from 8 years old and a game lasts about 15-20 minutes. The game can be purchased here at Geekach.
Hungry Monkey is also for 2-6 people, ages 8 and up. The game can be purchased here at Geekach and lasts approximately 15-30 minutes
Both games are designed to be language neutral. This means that the cards do not contain any text relevant to the game.