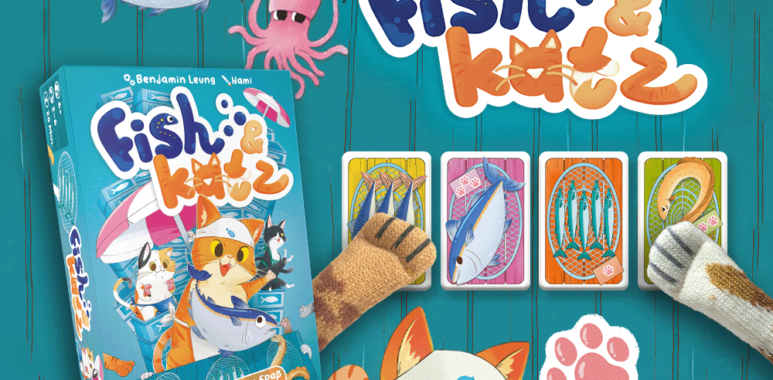 HeidelBÄR Games novelty Fish&Katz comes to SPIEL22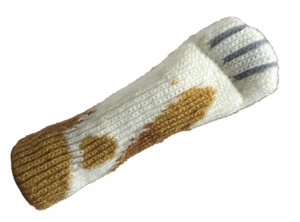 From the beginning of October, an Asian fish market will make its way onto European gaming tables with Fish&Katz by author Benjamin Leung. In the now announced, new, fanTATZic reaction game from Heidelbär Games, up to six cat friends aged 6 and over slip into the roles of hungry cats. The cute cat paws as game material make Fish&Katz a real eye-catcher and a haptic experience at the same time. The Korean artist Hami also contributes significantly to this with her straightforward fish motifs and appetising illustrations..
Fish&Katz comes with a slim set of rules but extraordinary accessories. Select a cat paw and off you go – the knitted finger cots in different cat colours snuggle comfortably on the players' index fingers. But that's the end of the comfort story. Because now everyone – and all at the same time – paws at the fish of your choice with a waving cat movement. Whether you are allowed to take this fish in card form from the playing card display of the fish market then depends on what the other cat players wanted to grab. Because if two want the same thing, no third is happy! If two cat paws land on one card, this fish card is out and spoiled for everyone!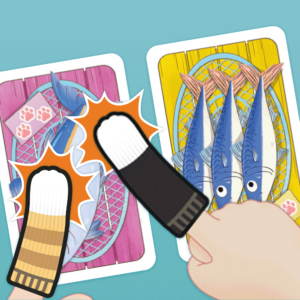 That's why it's important to be nimble and clever in Fish&Katz. In the end, only collected triplets of identical fish cards give you tasty points. Whoever gets enough of them heralds the end of the great cat-and-paw game. However, the octopus cards should not be ignored, because with their help cats are allowed to steal from others. With a playing time of approx. 20 minutes, Fish&Katz also guarantees a short break.
Clever cats catch and fetch the fattest fish!!
In short: easy rules and animal-like, beautiful and haptically unusual material ensure competitive, but family-friendly chaos in Fish&Katz. Even younger family members are guaranteed not to get bored with Fish&Katz.
Sustainability is important to us, and so we try to contribute to it ourselves when selecting the play material: all plastic markers in Fish&Katz are therefore made of the sustainably recycled plastic RE-Plastic®. More information is available on the product page of the game.
With "Trees for the Future" we have also found a competent partner in terms of sustainable commitment. We are very happy to be able to help plant one tree per game of Fish&Katz sold! The further work of "Trees for The Future" also refers to supporting families in other areas of self-sufficiency. More information on the product website and at: https://trees.org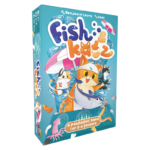 Fish&Katz, 2-6 players, 20 minutes, from 6 years. Available in German from the beginning of October for probably 22 Euros RRP. The game includes 6 knitted cat paws, 50 fish cards, 4 octopus cards, 6 reference cards as well as 20 RE-Plastic® paw markers and of course a game manual.