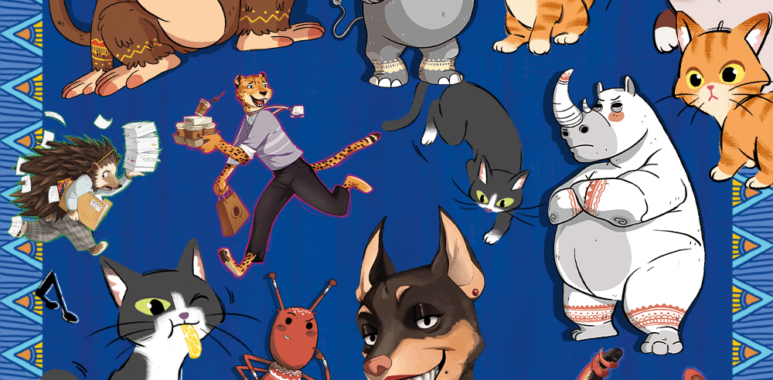 Good things come in threes: HeidelBÄR Games novelties announced!
HeidelBÄR Games card game novelties HUNGRY MONKEY, SWEET&SPICY and ANIMAL announced for spring 2022!
HeidelBÄR Games has announced three new card games from its own publishing house for the first half of the year. ANIMAL POKER has already been known since autumn 2021, but will now appear in February 2022 due to production delays. New in 2022 are the card games SWEET&SPICY and HUNGRY MONKEY.
While SWEET&SPICY is an independent novelty based on the hit SPICY with new cute kittens as illustrations, HUNGRY MONKEY by Erik A. Sunden ("Whirling Witchcraft") is the second game in a short time by the Norwegian newcomer author. The motif and story in this fast-paced card game originate from the Indian cultural area and the artist and illustrator of this game, Sushrita Bhattacharjee, is also based there, as with the other titles in the 'Radiant culture series'. Both games are scheduled for release in spring 2022 (March/April). The card games from HeidelBÄR Games will all have an RRP of around 15 euros.
HUNGRY MONKEY is a fast-paced card game for 2-6 players in which the aim is to get rid of your hand cards and collect beans. The aim is to be the first to play your own cards in HUNGRY MONKEY before someone else does. You have animal cards in your hand and in a face-down row in front of you. To win, you must first play all the cards in your hand and then all the cards in the row. In HUNGRY MONKEY, cards with the same or a higher number can be played, which can lead to great animal effects.
SWEET&SPICY is a bluff card game for 2-6 players and the child-friendly version of Spicy. Instead of Wasabi, you can now play the lemon and there is a new card in the game: The SUPER-JOKER. But the game principle remains the same. Just like in Spicy, the cards are played face down, so you can tell a fib when announcing your card. But it is not simply a matter of bluffing convincingly. Because a card that is at least half right can almost always be played if you play it skilfully from your hand.
ANIMAL POKER is the beastly good card game about the not-so-fair rise and fall in modern working life. Become the new boss in Animal Inc. from now on or stay the trainee forever. The boss is the starting player and can play one or more cards of the same number. The following players must decide to play the same number of cards, cards with the same number or cards with a higher number. This game is only for 4 or more players, but up to 8 people can play!
Product page ANIMAL POKER https://heidelbaer.de/en/heidelbaer-games-en/animal-poker/
Product page SWEET&SPICY https://heidelbaer.de/e/sweet-spicy-2/
Product page HUNGRY MONKEY https://heidelbaer.de/en/hungry-monkey/