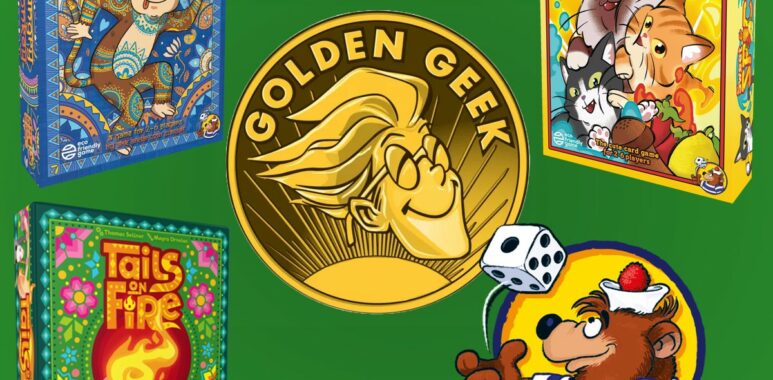 The nomination phase for the 17th Golden Geek Awards is still running on BoardGameGeek until Sunday (23.04.2023).
The award of the world's most famous board game community site is awarded annually for the best game of the year by the votes of the community. So it's up to you and your vote and already in the nomination phase every vote counts! In the end, the ten most nominated titles from each category will be included in the final ranking.
We HeidelBÄRen and our partners are of course also represented with our popular and celebrated games from last year. We would be happy if you vote for our games and bring them into the final. Up to ten games can be nominated in each category.
HeidelBÄR Games is currently in the nomination phase, with the following games represented:
The fast-paced trick-taking game Tails on Fire for 2–6 people, which remains exciting until the end thanks to an exciting game mechanic. The point cards that you can win in each round can be stolen again at any time. In addition, each round is played with only three cards in hand – you have to think carefully about which cards you have a chance to win the trick with.
In the animal card game Hungry Monkey you'll try to be the first to get rid of your cards. You also play with hidden cards, which you can only discard at the end of the game. During the game, on the one hand, you try to discard your hand cards and get to know the hidden cards and, if necessary, exchange them for better ones.
With Sweet & Spicy our popular bluffing game Spicy has got a successor, which makes the bluffing game accessible to younger people. Besides a completely new artwork, new superjokers are waiting for you! Play a higher card of the same spice … or not, because you place the cards face down. Don't have the right card? Then it's time to bluff! But don't get caught!