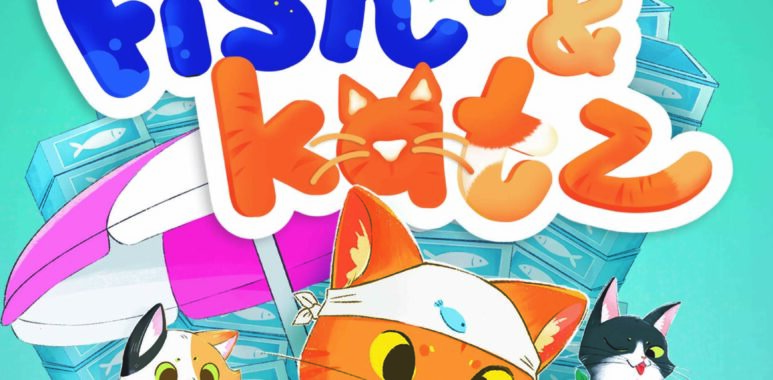 Fast 'n' Fun
HeidelBAER News
Fish & Katz will be released in November
Fish & Katz is the new paw-tastic family game from HeidelBÄR Games. The fast reaction game by Benjamin Leung could already be tested during Spiel22 and captivated many players there. Fish & Katz combines fast reactions with tactical elements and includes six knitted cat paws, which were the eye-catcher at the fair. The game will be available online and in stores from November for €19.95 RRP. Alongside Tails on Fire, Fish & Katz is one of the autumn novelties in the HeidelBÄR Games publishing program.
Fish & Katz – Who will catch the fish?

Fish & Katz is a fast reaction game that could be played for the first time at our booth at Spiel22 (1C121) and was thoroughly enjoyed at the demo table. The knitted cat paw fingers and the entertaining game principle with simple rules made Fish & Katz a highlight for young and old.
In Fish & Katz, each person gets one of the six very nice cat paw fingers, which are used to grab the fish during the game.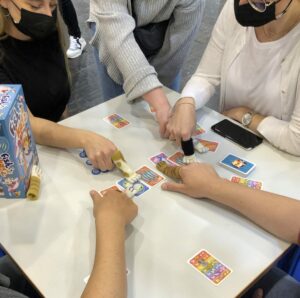 In each round, corresponding to the people playing, fish cards are laid out face up (number of people +1). Together is then counted "1,2,3" and on "3" all put their paw on a fish card. If there is only one finger on a card, the person gets the card and places it face up in front of them. If several people have chosen the same card, they all go empty-handed and the card is discarded. Afterwards, the display is refilled and the next round begins.
If a person has collected three cards of two types of fish, the round ends and people receive cat tokens for each set of at least three identical fish cards. How many tokens one gets depends on the type of fish collected. Fish come in three value levels, and the more valuable the fish, the fewer cards of it there are in the deck.
Then all the collected fish are discarded and a new round begins. Once a person has collected 6 paw tokens, they win the game.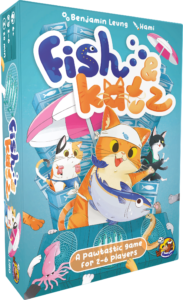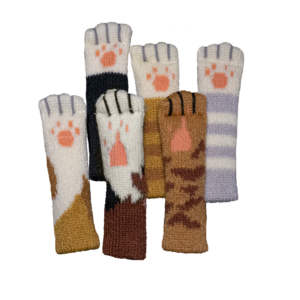 Fish & Katz is a reaction game for 2-6 people ages 6 and up. The game by Benjamin Leung includes 6 finger cat paws, 50 fish cats, 4 squid cards, 6 overview cards, 20 paw markers, 1 sticker sheet and 1 set of game rules. The game will be available in stores and online in November for MSRP €19.95.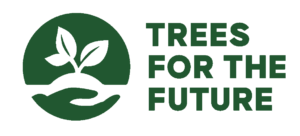 With "Trees for the future" we have found a competent partner in terms of sustainable commitment, which we support wholeheartedly with the sales of Fish & Katz: We are very happy to be able to plant a tree for every sold game through the sales of Fish & Katz!  Detailed info is available at: https://trees.org.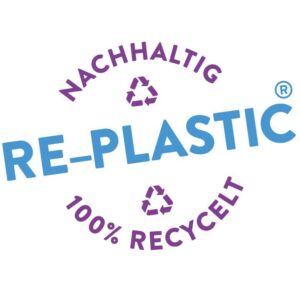 All plastic markers in Fish & Katz are made from the sustainably recycled plastic RE-Plastic®. For RE-Plastic®, our supplier Wissner uses 100% recyclable polystyrene from "post consumer production", i.e. post-industrial waste that has been recycled on site and returned to production. RE-Plastic® is absolutely equivalent in quality, appearance and feel to new plastic granulate.