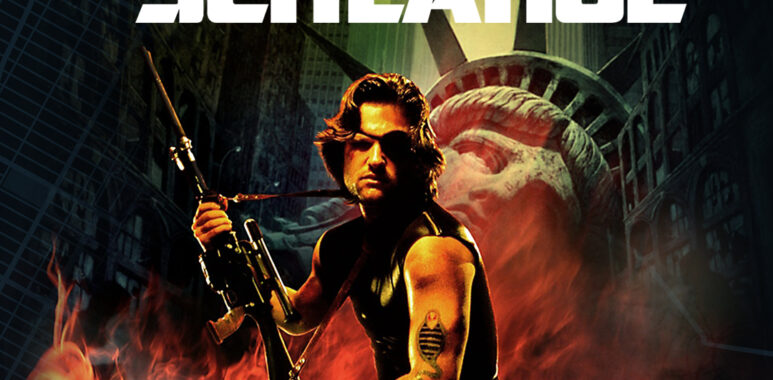 Die Klapperschlange will be released as a boardgame at the end of the year
Are you ready for an iconic adventure? In 1982, John Carpenter's film Die Klapperschlange (original: Escape from New York) was released in German cinemas. 41 years later, you can now re-enact the adventures of Snake Plissken, Brain, Maggie and Cabbie yourself. After a very successful Gamefound campaign, the board game by Pendragon Games will be released in German by HeidelBÄR Games in German at the end of the year.
The board game based on the cult film was penned by Kevin Wilson and offers semi-cooperative fun for 1–4 people aged 14 and up. The plot of the game is based closely on the film, but does not require any knowledge. So the game is not only for fans of the movie, but also for friends of action-packed board games. But what is Die Klapperschlange about?
The president has crashed his plane in Manhattan and needs to be rescued. Doesn't sound so difficult so far? But it is, because Manhattan has been restructured into a huge maximum security prison and is lurking full of criminals who have taken control of the city and have the president in their grip. Besides many common ruffians, you'll also be able to encounter iconic movie villains Romero, Slag and the Duke of New York.
Choose your characters, let yourself be infiltrated directly into Manhattan and set out to find and free the president. With each move, you'll explore the city further and collect new equipment. However, there are also numerous enemies lurking in the city that you have to defeat. Will you manage to find the president and escape from Manhattan unharmed?
Semi-cooperative
Together you'll start your mission to save the president, but don't rely too much on your friends, because apart from the common goal, each person has their very own goal. So it's possible that your friends will stab you in the back during the game – so never rely too much on their help.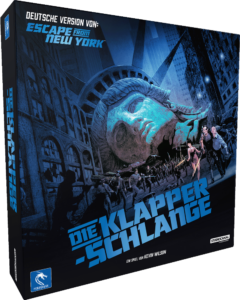 Die Klapperschlange is the board game adaptation of the cult film of the same name (English Escape from New York) and by Kevin Wilson. The board game is for 1-4 people ages 14 and up and includes: 1 game rule, 1 game board, 4 hero sheets, 1 "New York" sheet, 153 cards, 40 prisoner figures, 25 roadblock markers, 14 city edge markers, 1 helicopter marker, 1 gullfire marker, 12 level bar markers, 4 suitcase markers, 19 plastic bases, 4 hero stands, 3 boss stands, 1 cab & car stand, 19 timer, 37 city,8 "Central Park", 1 library, 1 "World Trade Center", 8 "Important Place" tiles, 15 item dice, 15 ammo dice, 3 meeting place dice, 1 "New York" noise dice, 4 "New York" mission dice, 1 event level marker, 1 poster.
Die Klapperschlange will be released in German by HeidelBÄRen towards the end of the year. You can already pre-order the game in our online store or get notified as soon as the game is released.
Noch mehr Action mit den Erweiterungen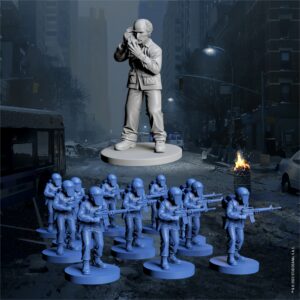 Die Klapperschlange: United States Police Force: This expansion contains the game variant: Cop Negotiation. In addition to their missions, the heroes must now complete tasks assigned to them by Hauk in order to receive the presidential pardon at the end of the game. The heroes can choose to help or betray the cops if they want to fulfill certain secret objectives.
The expansion includes: 1x "Bob Hauk" figure (scale 40mm), 12x cop figures (scale 28mm), 1x USPF sheet, 4x action cards, 15x task cards, 15x reward cards, 5x progress cards, 1x suitcase card, 2x item cards
Die Klapperschlange Brettspiel (Escape from New York): Die Banden von New York: This expansion provides material for a 5th player who takes on the role of the gangs of New York, opposing the heroes and preventing them from completing their mission.
The expansion includes: 3x boss figures: The Duke, Slag, Romero, 1x "New York" player sheet, 1x "New York" overview map, 4x "New York" action cards, 3x "New York" spazial action cards, 6x mission cards, 3x plastic rings.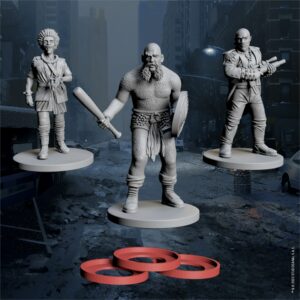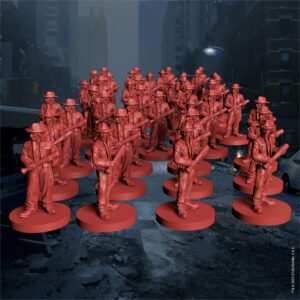 Die Klapperschlange: Heroes Set + Prisoners:
Swap out the hero and prisoner standouts from the game for detailed miniatures.
The expansion includes: 4x hero miniatures, 40x prisoner miniatures and 4x plastic rings.
Die Klapperschlange: Playmat: the official Playmat for Die Klapperschlange
The extension includes a play mat measuring 100 x 67 cm.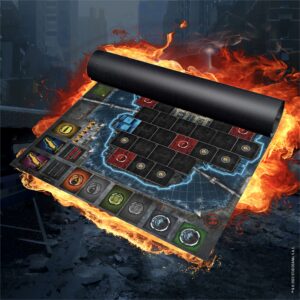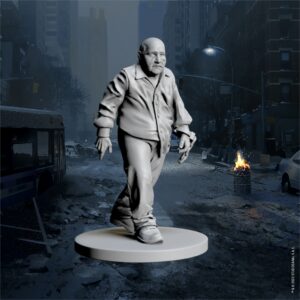 Die Klapperschlange: President Miniature: Expand your game with 1x President Miniature.
The expansion includes a detailed President miniature figure.
Die Klapperschlange: Sleeves: The official card-sleeves for Die Klapperschlange
Each pack contains 50 official protective sleeves, designed with semi-transparent graphics to be fully compatible with the different layouts of the game.
Here you can find a list of the exact card counts of the different editions:
Basic Game: 118 cards + 4 reference cards
The Gangs of New York: 13 + 1 reference card
United States Police Force: 42 cards