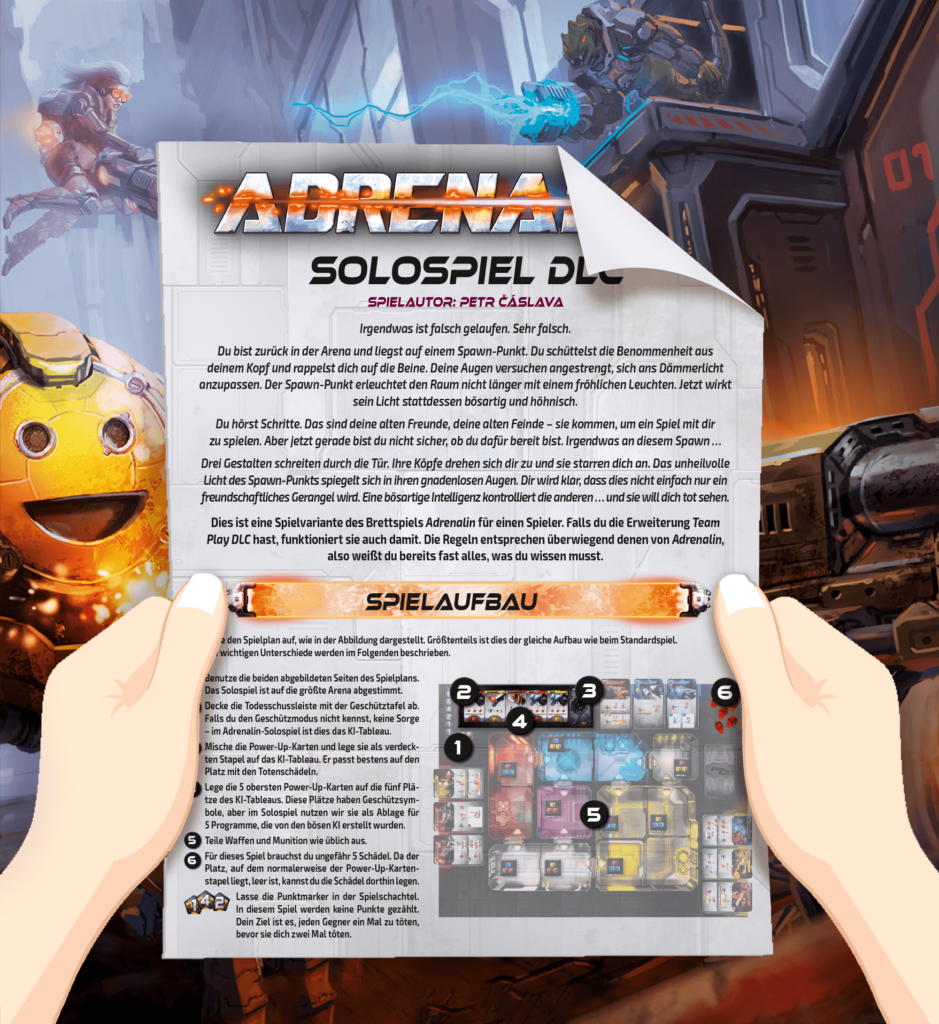 Description
• Adrenalin – Finally also for one player
• First-person shooter
• 1 player, 60 minutes, from 12 years
THE FIRST-PERSON SHOOTER FOR THE LIVING ROOM TABLE.
– FINALLY ALSO FOR ONE PLAYER!
You are back in the arena, lying on a spawn point. Your eyes try hard to adjust to the twilight. Something about this spawn was different …
---
What is Andrenalin: Solospiel DLC?
The adrenaline is boiling in your veins and you can't wait to get back to the arena? Dare to take on the ultimate solo challenge!
How to play Andrenalin: Solospiel DLC?
IN Solospiel DLC the other 3 characters become killbots that hunt you relentlessly. You can take them out directly, or at least try to short-circuit their programming by firing at spawn points. The rules are mostly the same as Adrenaline, so go ahead, what are you waiting for?!
Erweiterung für das Brettspiel Adrenalin
This game variant for one player requires the board game Adrenalin. If you have the Team Play DLC expansion, it will also work with it.
The AI is everywhere!
---
| | |
| --- | --- |
| Age: | 12 |
| Duration: | 60 |
| Players: | 1 |
| Category: | Family & Friends |
| Topic: | Robots, Shooter |
| Designer: | Petr Čáslava |
| Artists: | Jakub Politzer |
| Language: | German |
| Release Date: | 2020 |
Only logged in customers who have purchased this product may leave a review.