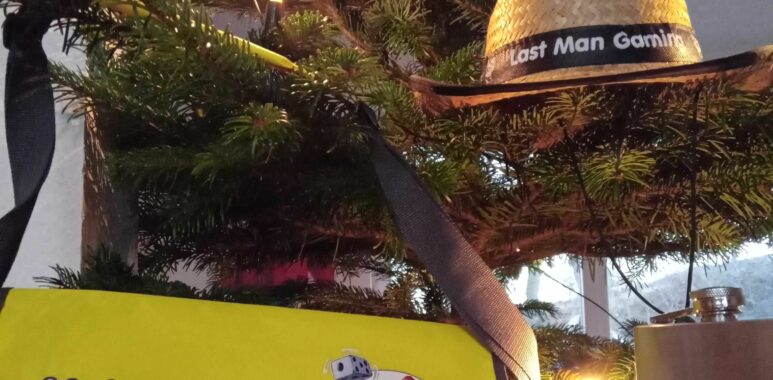 Czech Games Edition News EU
HeidelBAER News
Horrible Guild News
Mebo News
More Game-News
News
Advent calendars main prize announced
21.12.21 – Is there a more memorable date to announce the main prize for this year's HeidelBÄRen Advent Calendar? Even better, this time there will not only be a main prize, but also a second prize – and we'll explain what that's all about here: thank you all for your numerous, no, glorious participation in this year's HeidelBÄRen Advent Calendar – a very big thank you goes to the many, many great content creators who have made this puzzle fun in this form possible in the first place!
SPOILER: From 25 December, you can vote for your favourite and best video directly in a separate poll, and win another prize at the same time! But now let's get to the final spurt of the doors, which we will also conclude with a door special on 25.12.2021.
We would like to thank Sebastian (Spielfritte), Thomas (Betterboardgames), Dennis (Brettspiele und mehr), Matthias Stober (CoBo Games), Benjamin Törck (Brettspielblog), Dave Luza (Luzapalooza), Tanja&Thorsten (die Hausis), Andreas Buhlmann and the explanatory mouse Aiana (Cliquenabend), Melanie and Angelo (Spieledinos), Marie Poenisch (Nordsprech), Marcus Scheib (time4boardgames), Pamela and Michael (Brettspielgarde), Silke Christensen with Mirko & Marco (Café Würfel und Zucker – cameo appearance by ErklärBÄR Mario), Ben Maddox (5Games4Doomsday), Alex Becker with Jeanette (metal. de), Benni (Pottgamer with support from Daniel), Johannes 'Hunter' Jaeger and Meli (Hunter & Friends), Benny Knab (& fellow players from Brettspielsuchties) and Jörg Köninger & family (Brettspielblog)! You are great.
If you don't know what it's all about yet, just go directly to the participation portal!
Main prize board game – ca. 144,00 €
RAILRAOD INK CHALLENGE: BIG DELUXE SET IN COLLECTORS BOX 
4 x Epic Board – 9×9-Rooster
1 Solo Board
4 x dice bags
1 x Railroad Ink: Edition Tiefblau 1 x Knallrot
1 x Railroad Ink Challenge: Edition Blattgrün
1 x Railroad Ink Challenge: Edition Sonnengelb
each 1 x dice expansion: Wolken, Ingenieur, Eldritch, U-Bahn, Zukunft, Elektrizität, Arcade
1 x big collectors box forall of your RR material
18 Stretchgoal extra cards from the KS-Version
WINNER-BONUS: STEAM/Android Code for  digitale Version of Railroad Ink Challenge
Main prize /2. prize – MIN. 111,00 €
ULTIMATIVE HEIDELBÄR LOOT SET! 
Actually priceless, but of high value, the overall winner will receive this ultimate HeidelBÄRen Loot for participating in all 24 days and answering correctly – if there are several candidates, the draw will decide. ATTENTION: We will also raffle this off a second time among all participants who gave the wrong answers on all days! 
1 x HeidelBÄR Seesack
1 x Heidelberger Spiele Tasche
1 x Metallflasche Heidelbär, flach
1 x zufälliges HeidelBÄR-T-Shirts
1 x Last Man Playing Hut (Arnak seems to shine out everything these days)
2 x HeidelBÄR Games Kulis (grey and blue)
2 x Arnak-Schreibblöcke A5 (coloured and white)
1 x Würfelturn mit 3 versch. Plexiglas-BÄRen
1 Trick or Treat sweets (surprise)
1 x game DER HEIDELBÄR
2 x Spicy-post cards (not to be seen in the picture)