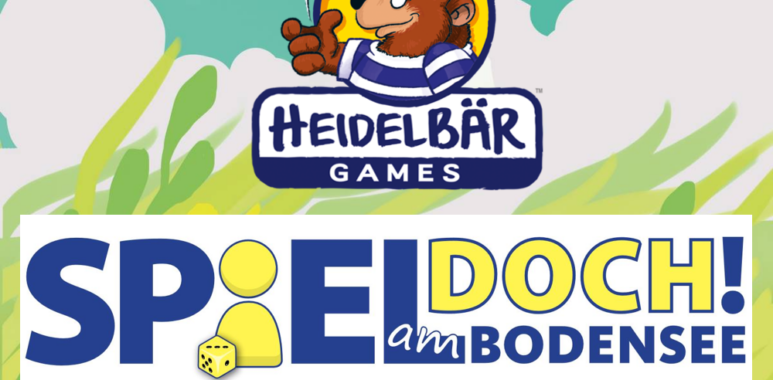 Community
Events
HeidelBAER News
News
HeidelBÄR Games at Spiel Doch! am Bodensee
Spiel Doch! will be held in Friedrichshafen on Lake Constance from June 02 to 04, 2023. The offshoot of the trade fair established in the Ruhr region offers space for over 60 national and international exhibitors and publishers in Foyer West and Hall A2. On approx. 5,500 m² of exhibition space, game enthusiasts will get their money's worth.
We HeidelBÄRen will be there on all three days with a booth (booth A05). Together with Heidelberger Spieleverlag we will be represented with our own games and the games of our partners Czech Games Edition, Horrible Guild, MEBO GAMES and Synapses Games.
Additionally, our popular Galaxy Trucker big game will be available again (booth A20).
Come by and take the chance to test and buy our current games and those of our partners at our demo tables. Our ErklärBÄRen are looking forward to meeting you! So feel free to come by.
Friday 10 – am 6 pm
Saturday 10 am – 6 pm
Sunday 10 am – 6 pm
Spiel Doch! am Bodensee also offers a large supervised play area where games can be played. The experience is rounded off by the well-known game lending service, with over 500 titles where you can borrow and play games.
Here you can find more information.
Numbers, Data, Facts
HeidelBÄRGames (Stand A05 & A20)

Date:
June 02 – 04, 2023
Opening hours:
Friday to Sunday: 10-18 h
Location:
Friedrichshafen Exhibition Center
New fair 1
88046 Friedrichshafen
Directions:
There are free shuttle buses from the ferry port/train station directly to the trade fair (line MX: port station – city station – trade fair and back).