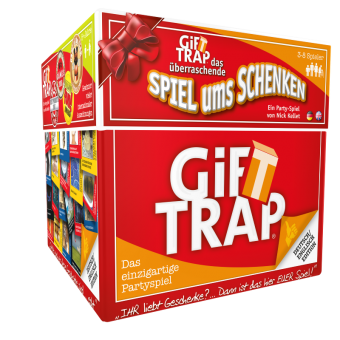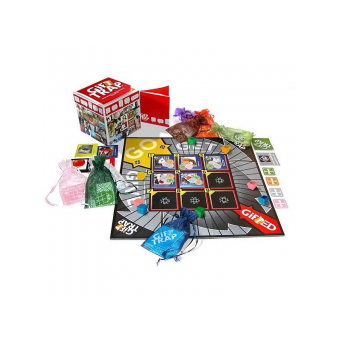 Description
• The Party Game About Giving
• Sonderpreis Partyspiel 2009!
• 3-8 players, 45-75 minutes, 8 years and up
• German + English in one box
Gifts! Gifts! Gifts!
Think you know what your friends & family want? Find out when you play GiftTRAP. Watch them rate potential gifts before they open yours – you might be surprised at what they choose. It's fast, fun, and revealing.
---
What is GiftTRAP?
GiftTRAP is a party game about the exchange of gifts. Giving the perfect gift is hard but when you get it right it's an emotional experience that builds bonds that form life-long memories. It opens the door to people's dreams and wishes.
How to play GiftTRAP?
It's the hilarious social conversation starter that will get you connecting more deeply with friends and family. Every round features an amazingly diverse selection of unique gifts. Players review the gift selection to anticipate which gift might be best for each player. Then everyone secretly gives each player a gift. Players then rate the gifts based on their opinion. Each player then opens and scores their gifts. And who knows, you might even get some good ideas for actual presents!
With the purchase of GiftTRAP you will receive the GiftTRAP: Geek Edition for free as a promotional item!
---
| | |
| --- | --- |
| Age | 8 |
| Duration | 45 |
| Players | 3-8 |
| Category | Family and Friends |
| Artists | Scott E. Davis |
| Designer | Nick Kellet |
| Language | German, English |
| Release Date | 2008 |
Only logged in customers who have purchased this product may leave a review.