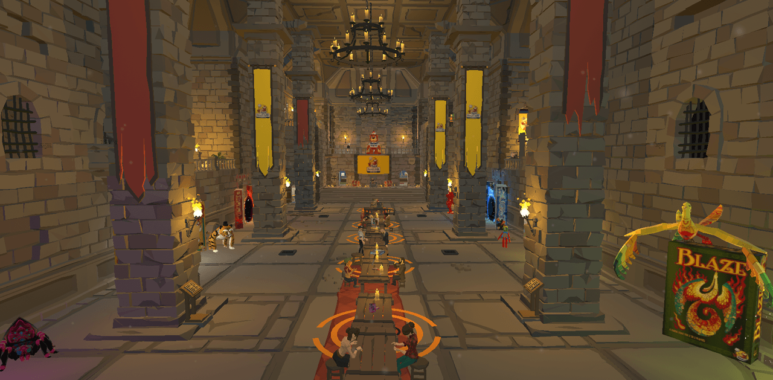 Events
HeidelBAER-News
News
Welcome to Castle TriCon 2021 Spring Edition
Castle TriCon 2021 SPRING EDITION is a virtual board game convention in a the 3D world and can be visited on February 26 and 27 from 4 pm to midnight. During this time Castle TriCon offers a lot to experience, discover and of course play! Besides the possibility to play the games of HeidelBÄR Games, Czech Games Edition and Horrible Guild in digital form there will also be an interactive program.
Welcome from 5G4D – 5 games for doomsday, by Ben Maddox.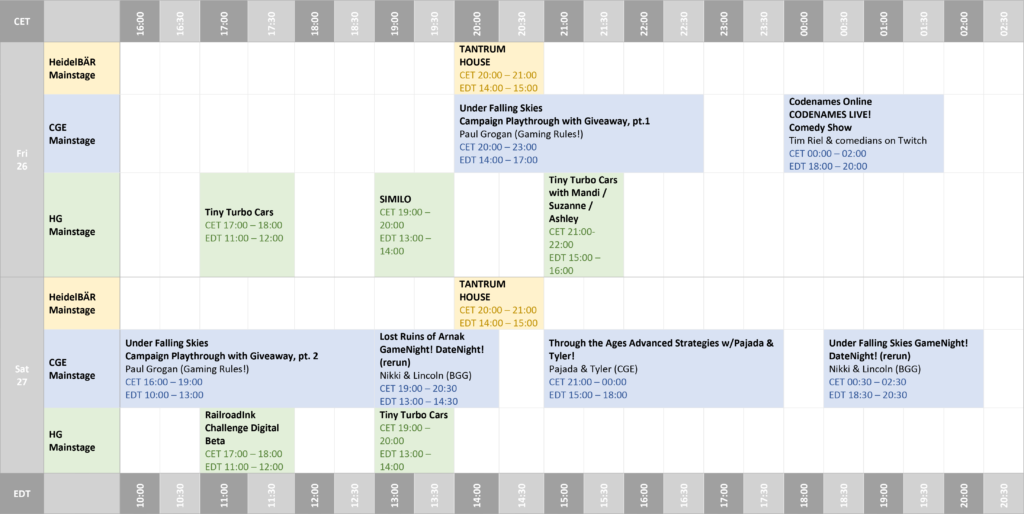 See our live-stream programme here – click to enlarge:
How to participate
To participate in the event, you need to book a ticket. You can get the ticket HERE for free! More information about registration, download of the convention can be found on the FAQ page HERE.  For a real convention feeling a physical ticket is missing of course, so if you want you can print your ticket: Print Ticket
Come by and explore the 3D world with your friends. In the 3D world there are communication zones where you can talk to us via image and sound.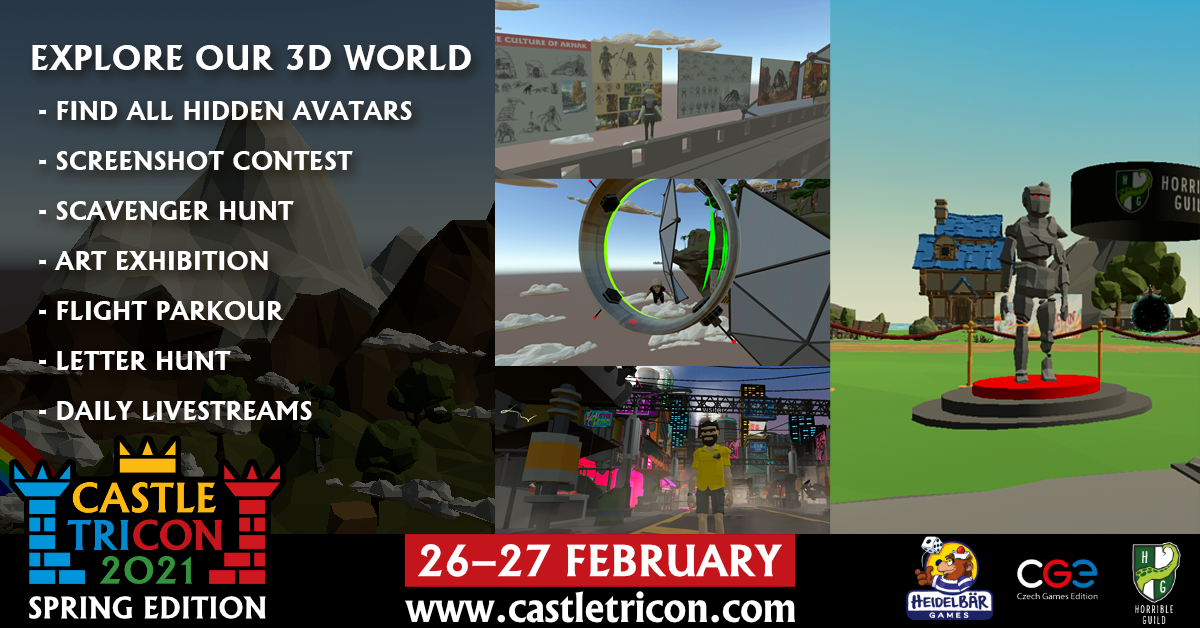 Interactive program at Castle TriCon 2021 SPRING EDITION
Throughout Castle TriCon there will be the opportunity to participate in the following activities:
Avatar Collection: Expand your avatar collection! Can you find all 11 avatars hidden around the world of Castle TriCon?
Screenshot Contest: Take a screenshot of your favorite thing in Castle TriCon's 3D world and share it on your Facebook / Twitter / Instagram with #castletricontest
CGE, HeidelBÄR Games, and Horrible Guild will pick 6 winners in total.
Scavenger-Hunt: Find the 7 secret boxes hidden around the 3D world of Castle TriCon.Answer all questions correctly and enter our contest for a chance to win a cool Castle TriCon T-shirt and digital codes for board games from CGE and Horrible Guild.
ANSWERS: https://it.castletricon.com/contest
Art exhibition: Get a behind-the-scenes look at cool concept art and developer diaries for "Lost Ruins of Arnak" and "Under Falling Skies".
Flight Parcour: Running is easy – but can you fly? Challenge your friends to a race and see who is the best flyer!
CGE'S Letter Hunt: All around the CGE world, we've hidden letters forming three secret words.Collect all letters, discover the secret words, and send us your answers for a chance to win Lost Ruins of Arnak, Under Falling Skies, or Codenames.
ANSWERS:
https://www.castletricon.com/cge-contest?lang=de
Daily Livestreams: All three companies have prepared an exciting lineup of live streams. Check out their channels to get more info
Games at Castle TriCon 2021 SPRING EDITION
At Castle TriCon there are lots of games to discover, our ErklärBÄRen are happy to explain games to you and play with you. The following games can be played in the 3D world via digital platforms like tabletopia, boardgamearena und yucata:
Anansi – HeidelBÄR Games
Letter Jam – CGE
Lost Ruins of Arnak – CGE
Spicy – HeidelBÄR Games
Unicorn Fever – HG
Vampire Vendetta – HG
Volt – HeidelBÄR Games
Codenames – CGE
Codenames: Duet – CGE
Coyote – HeidelBÄR Games
Decipher – HeidelBÄR Games
Dragon Castle – HG
Railroad Ink – HG
The King's Dilemma – HG
Under Falling Skies – CGE
Dungeon Petz – CGE
Potion Explosion – HG
Tzolk'in – CGE
Tash-Kalar – CGE 
HeidelBÄR Games will also present its new card game Blaze. Blaze can be played on tabletopia and for the first time also on boardgamearena.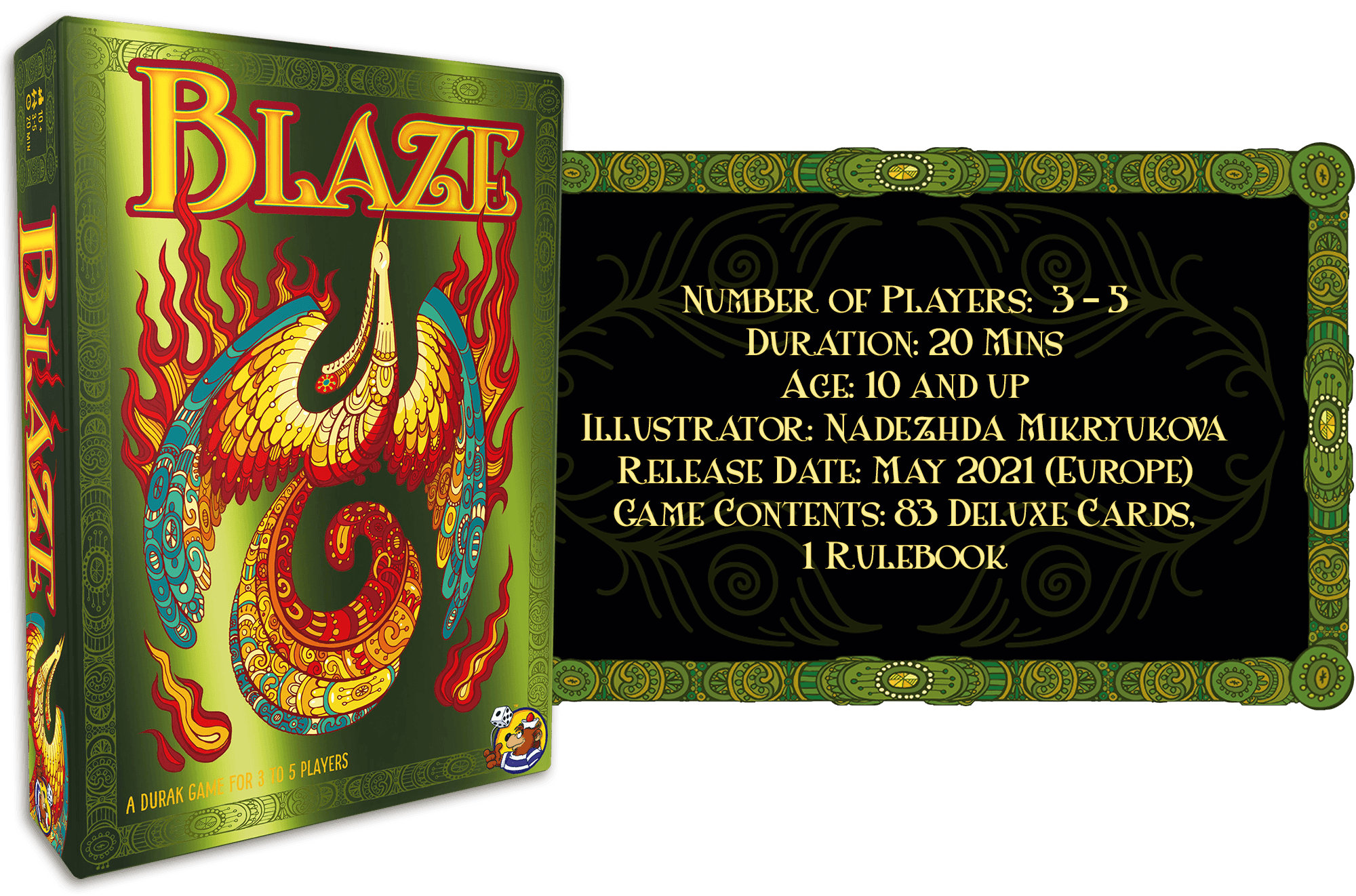 Castle TriCon T-Shirts
For the first time, there will be exclusive Castle TriCon 2021 SPRING EDITION t-shirts. Available in 4 colors on boardgamerags, the t-shirts are priced at $24.95. Available are front and back print, as well as for a small extra charge an additional sleeve print with our Castle Bear.