New COYOTE card game announced!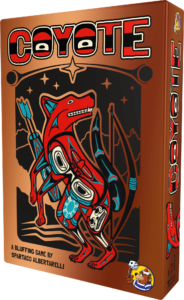 Newly designed card game Coyote has been announced by HeidelBÄR Games as one of their two new products coming this fall. This fun and smart card game is not simply a redesigned version of the classic game Coyote by Italian designer Spartaco Alberterelli … but comes with completely revised rules! HeidelBÄR Games' new version for three to six players also features new art by a native American illustrator, leaving former ways of accessing other people cultural heritage behind. Coyote is a unique bluffing game with high replayability and dynamic game play of about 20 minutes only. The family game for players starting from the age of ten will be available for October 2020 and be ready for SPIEL.digital. Players will have the chance to try out the card games themselves at www.castletricon.com – HeidelBÄR Games' and partners own virtual gaming event in September.
The traditional North Western tribal formline design by Native American illustrator Zona Evon Shroyer gives Coyote its very own identity. They say, there is no word for art in the native languages of North America, they simply turn something practial into something beautiful. Just as the illustrator Zona Evon Shroyer has done with the gaming cards of Coyote here. Northwest Coastal art is detailed and can be quite complex, requiring years of study and practice to produce stunning works of art as you see from the Coyote on the cover. The designs for this card game incorporate symbolism for balance, completion, new beginnings, birth, life, positivity, abundance, faith, the eagle, baby eagle, coyote, turtle, bear and beaver.
All of this is being highlighted by the eyecatching quality of copper metallic print on the card backs and the box itself.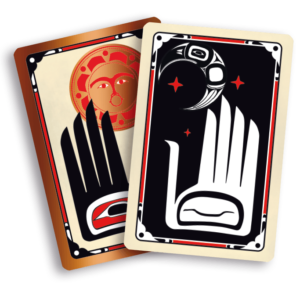 Coyote will be released in series with Spicy, the card game recommended by the Jury of SPIEL DES JAHRES in 2020, and the also newly annonced card game Anansi. In this line all game boxes and card backs are decorated with a special metallic print, to reflect the unique gameplay of the games.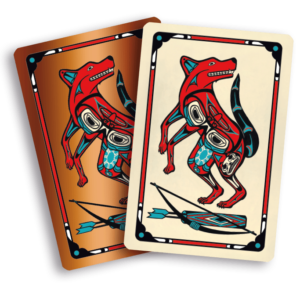 In Coyote you always see the cards of the others, but never your own. When it's your turn, you must announce a number that is less than the total of all the cards in the game, increasing the previous number. Alternatively, you can challenge the number previously announced. Finally, when all the cards are revealed, it is revealed who has the cunning Coyote on their side.
Coyote, a family card game for players over the age of 10 for 3-6 players – playing time about 20 minutes – will be released in October 2020 in Central Europe, for an MSRP of about 15 Euro.