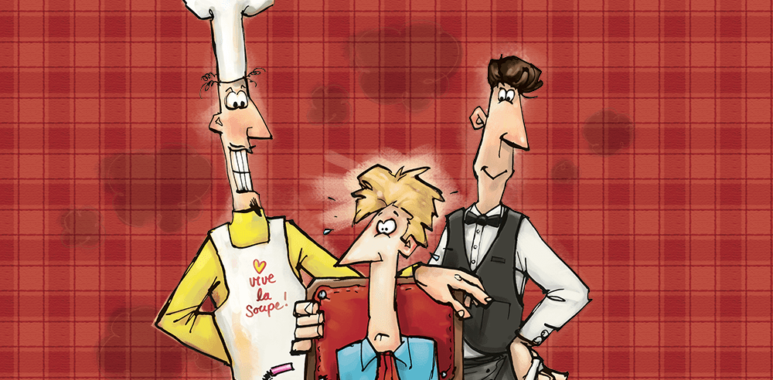 HeidelBÄR offers Desserts À la Carte again!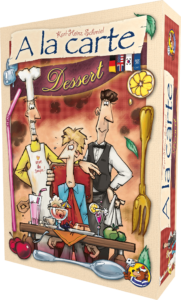 Only at HeidelBÄR Games can you dine original "À la Carte" – in your favourite board game star restaurant you can serve fresh unique desserts to go with it again from September 2021!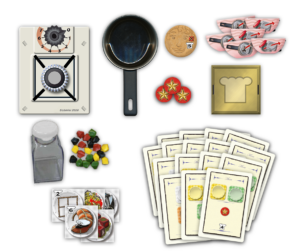 The aroma of roast meat rises, peppers and fresh herbs make your mouth water … now a little salt … no, that was too much!!! Or maybe not – because in the A la carte -Dessert expansion, the salt dishes make their entrance. Here, a little too much salt is the order of the day and no longer a flaw. But beware, the other ingredients are now coming into your expensive pots in a motley and mixed-up way. If you want to be successful as a chef, you must not let your dishes burn or be prepared incorrectly.  Do you still have the necessary skills?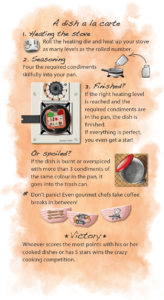 In the multiple award-winning A la carte, which was nominated for Game of the Year in 2010, among other things, not only up to 4 chefs now put their skills to the test, no, now a 5th competitor for the coveted restaurant stars has also been added. But even he will have difficulties sticking to the recipe. Set the temperature on your cooker correctly and show the necessary dexterity to sprinkle the right amount of spices into the pan. Only those who know how to master the dangers and pitfalls of a large kitchen will become a true star chef in the end. The following still applies: Vive la Soupe!
The re-release of the new edition of A la carte – Dessert will be available from this autumn in a multi-language version (DE/EN/KR/TW/CN) and will also be affordable for the less well-heeled at €19.95.
Preorder @ your FLGS – Friendly Local Flagship Store (or look up our international partners)