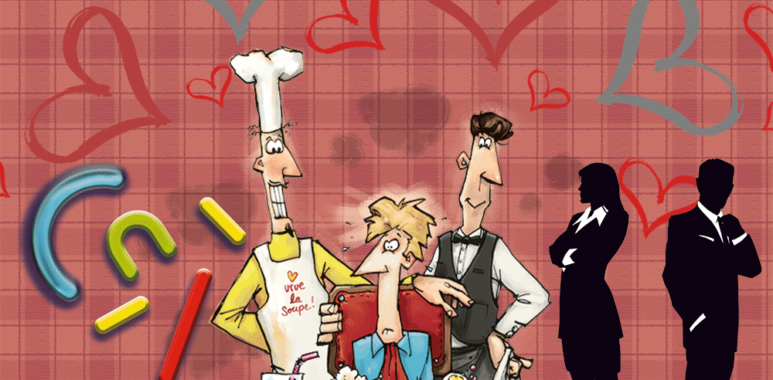 Game recommendation for Valentine's Day
Valentine's Day is coming and you want to spend a cozy evening with your sweetheart? Then we have the perfect selection from our range, with games that you can enjoy as a couple!
For a romantic evening for two:
A la Carte and A la Carte Dessert – The skill game A la Carte for 2-4 players, ages 8+ by author Karl-Heinz Schmiel is perfect for a romantic dinner. It goes to a crazy kitchen, where you are allowed to prepare a wide variety of dishes. Who will create the better dishes today, preheat the oven properly and make sure that the food doesn't end up in the trash can? You can also use the game as a small challenge: Whoever comes off better here will have to prepare a 5-star menu on the next Valentine's Day. In any case, you've already shone in A la Carte with your cooking skills.
But if you are rather sweet, the dessert should not be missing of course. For this you can your
A la Carte game with the matching expansion A la Carte Dessert and convince with many more dishes. You've never had such a romantic dinner as in the A la Carte kitchen!
It's also great to play by candlelight!
Wordsmith and Decipher – Love, romance, laughter, fun, kiss … there are probably an infinite number of words that describe love. The Letter Piece Games Wordsmith and Decipher by authors Bill Eberle, Jack Kittredge, Greg & Peter Olotka are perfect for getting creative about love. In Wordsmith, the goal is to combine the 4 letter parts as quickly as possible to create the most and, most importantly, the longest words. In Decipher, on the other hand, one of you can think of a word, which the other must then gradually guess.
Your Valentine's Day Challenge: Create only words that have to do with love. It's not as easy as you might think, and it'll add a little spice to your evening together.
Perfect for word fanatic lovers!

Codenames Duet – Off to the big city, off to adventure. You and your loved one are agents on a secret mission. Together you have to make contact with 15 agents and avoid getting close to enemy assassins. The game by Vlaada Chvátil and Scot Eaton not only offers suspense, but can light a very special fire in your love: Together against the rest of the world. You know the agents that your partner can safely contact and you have to give a clue with one word that matches as many words on the game table as possible under which the agents are hiding.
Are you ready for an adventure of love together? 
Another game recommendation for you: Theme night