We are a brand-new development studio for board and card games from Germany with a long, exciting history.
Where We Come From

In 1989, Harald Bilz and Peter Gutbrod founded a game publishing company named Heidelberger Spieleverlag to turn their own game ideas a reality. The young company had its first success in 1992 with the game Neolithibum, which reached the Deutscher Spielepreis' Top 10. In 1994, the company started offering wholesale and distribution services to help smaller publishers. At that time, the company mostly published small family games and card games with historical themes.
In 2001, Heidelberger Spieleverlag started working with international publishers to localize games for the German market. Alongside their world-renowned partner, Fantasy Flight Games, the company had the opportunity to collaborate with many partners including Ares Games, Czech Games Editions, and alea Spiele. Over the years, more than 40 international publishers became exclusively distributed by Heidelberger Spieleverlag. This made the company one of Europe's most relevant publishers for hobby, strategy, fantasy and sci-fi games.
Heidelberger Spieleverlag kept publishing its own titles, focusing on non-standard components, unique designs, and innovative game mechanics. Among these games, many are now considered tried-and-true classics in the German game market, like A la carte (Spiel des Jahres 2009 Nominee) and Blood Bound (Spiel des Jahres 2014 Jury Recommendation), which both gained worldwide recognition.
Heidelberger Spieleverlag was acquired by the Asmodee Group in 2017 and merged with Asmodee Germany. Asmodee's national distribution units usually do not take care of game development. Instead, this is handled by a variety of international independent game studios. As a result, HeidelBÄR Games was founded at the end of 2017 to bring the experience, passion, and creativity of Heidelberger Spieleverlag's team onto the international stage. "The Bear" had the honor of joining the ranks of other fabulous Asmodee game studios, like Fantasy Flight Games, Z-Man Games, Days of Wonder, Space Cowboys, Pearl Games, and Plaid Hat Games.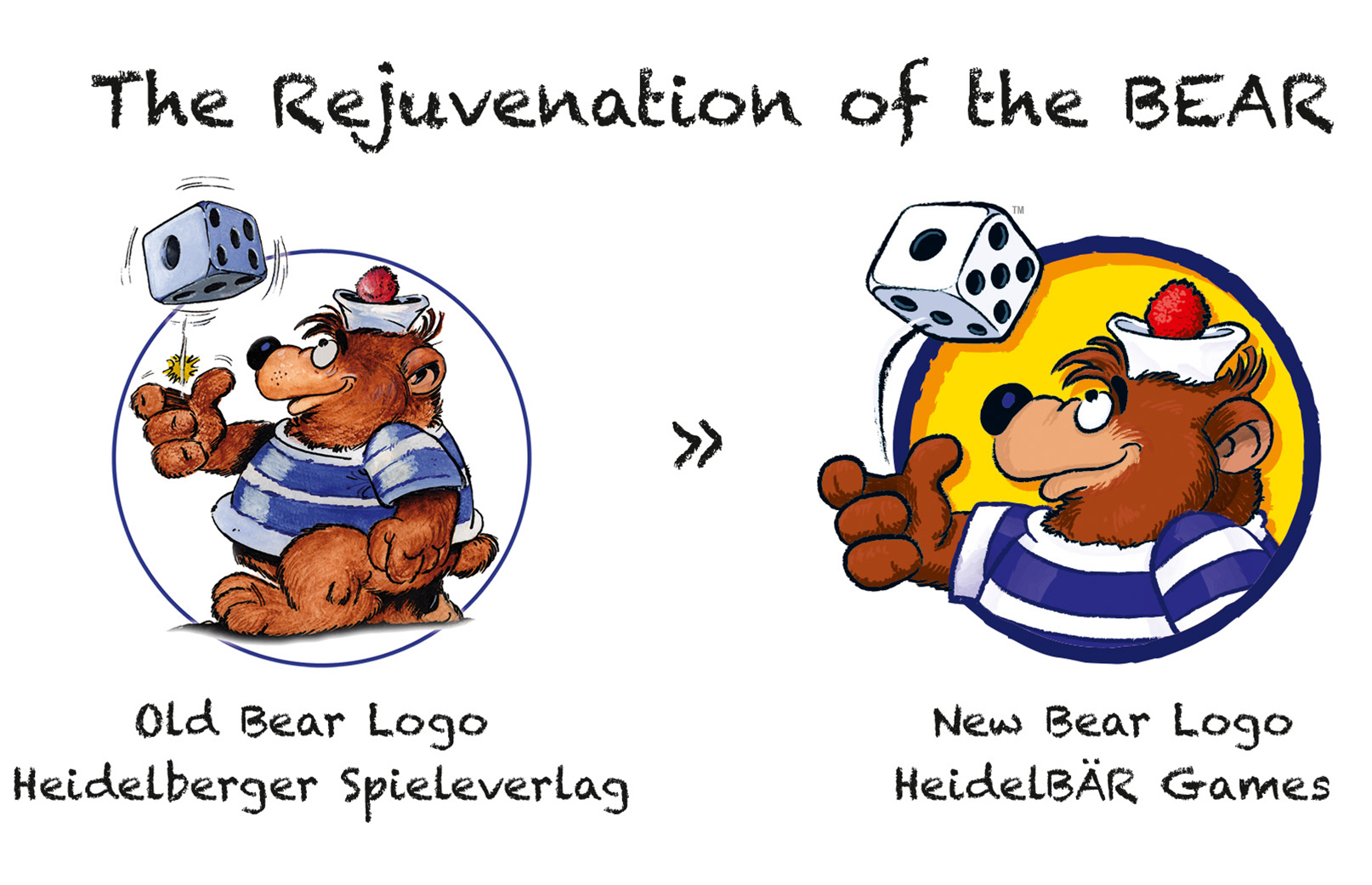 Who We Are Now
In 2019, HeidelBÄR Games left Asmodee and became an independent GmbH with the former studio manager Heiko Eller-Bilz as CEO.
For us HeidelBÄRs, this step is a return to our roots. As Heidelberger Spieleverlag, we had operated as an independent games studio for years, with all of the flexibility, creative chaos, personal responsibility, and long-term cooperation that comes with it. With the transition to a GmbH, the bear is not taking any unknown paths, and we are looking forward to a future full of terrific ideas, projects and games. Hello, Gaming World!
Great Games for Bears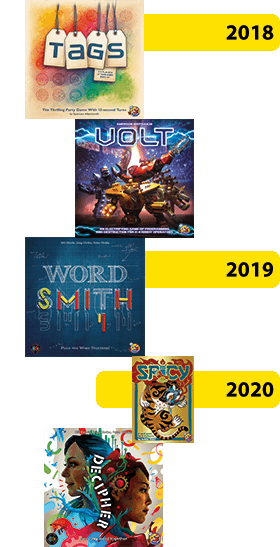 As a development studio, we would like to create new bridges to bring everybody together at the same table, whether they are casual gamers, hardcore gamers or family gamers. This means we are always looking for accessible games that offer a lot of replayability over time, but also games that are a bit interesting and/or unique. If we fall in love with a game outside this scope, we are still determined to publish it. In the end, we just want to make really cool games for everyone—bears and non-bears!
Our Team
Heiko
CEO


Favorite Games: A Game of Thrones: The Board Game, Battlestar Galactica, Coup, Dungeon Fighter
Not Enough People Know This Game: Dead Man's Draw
I Like Diving into the World Of: Dark Sci-Fi, Civilization

Sabine
Head of Localization


Favorite Games: San Juan, Dominion, Once Upon a Time…
Not Enough People Know This Game: Roar-a-Saurus
I Like Diving into the World Of: Fantasy novels, movies and series

MARINA
Graphic Designer

Favorite Games: Pig-a-Pig, Last Will
Not Enough People Know This Game: Sherlock Holmes: Consulting Detective
I Like Diving into the World Of: Fantasy, movies and series, Stand-Up Comedy

Roland
Game Developer

Favorite Games: San Juan, Risk Legacy, Backgammon, Crokinole, Blokus Trigon, Ra
Not Enough People Know This Game: Volt 2nd Edition (… but soon they will!)
I Like Diving into the World Of: Civilization, Comics

Michael
Head of Marketing 

Favorite Games: Top Secret Spies, Volt, Nmbr9, Crazy Coconut
Not Enough People Know This Game: A La Carte, Half-Pint Heroes
I Like Diving into the World Of: Sci-Fi à la Battletech, Soccer-Bundeslig & sports, handywork

BIANCA
Marketing Student

Favorite Games: Spicy, Anansi, Gartic Phone
Not Enough People Know This Game: Pictomania
I Like Diving into the World Of: music, fantasy, action

NICOLE
Online-Media Student


Favorite Games: Volt, Decipher, Letter Jam
Not Enough People Know This Game: Wordsmith
I Like Diving into the World Of: Fantasy-Action series, fitness & strength training

Bianca
Marketing Student


Favorite Games: Spicy, Anansi, Gartic Phone
Not Enough People Know This Game: Pictomania
I Like Diving into the World Of: music, fantasy, action

Erik
Marketing Student


Favorite Games: Spicy, Anansi, 7 Wonders
Not Enough People Know This Game: Flashpoint
I Like Diving into the World Of: music, firefighting, first responder

Max
Marketing Intern


Favorite Games: Terraforming Mars, Great Western Trail, 7 Wonders Duel
Not Enough People Know This Game: Volt
I Like Diving into the World Of: series, music, volleyball
Our game designers