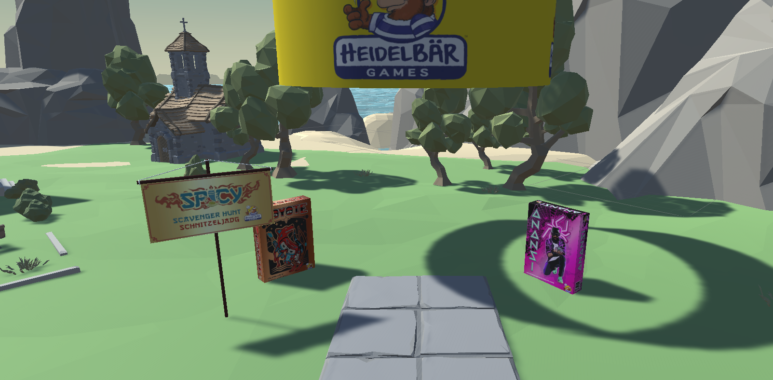 Events
HeidelBAER-News
News
Unique Experience: 3D VIRTUAL BOOTH @SPIEL.digital

HeidelBÄR and partners at SPIEL.digital in their own 3D world!
Make an appointment with players for the 3D VIRTUAL BOOTH starting at 16:00!
Meet our authors at 6 pm in a completely casual way on site!
2020 makes many things new at SPIEL – SPIEL.digital brings us together to get to know the latest games. There's a lot of great coverage, and many, many people have come together to make parlour games an experience despite the Corona crisis.
But one thing has been missing until now – the casual gathering in one place! And this is exactly where our 3D VIRTUAL BOATH comes into the SPIEL.digital world!
At the joint stand, the 3D game world of us, Horrible Guild (UNICORN FEVER, VAMPIRE VENDETTA, SIMILO, THE KINGS DILEMMA) and Czech Games Edition (THE LOST RURINS OF ARNAK, UNDER FALLING SKIES, THROUGH THE AGES) you can not only play our games, but also meet friends and acquaintances and as a program point today
MEET THE DESIGNERs (Sat. 6 p.m., 3D VIRTUAL BOOTH)
don't miss when the game developers Min & Elwen from THE LOST RUINS OF ARNAK, Tomas Uhlir (UNDER FALLING SKIES), Lorenzo Silva (THE KINGS DILEMMA, SIMILO and others) and among others Jim Dratwa and Cyrel Blondel (ANANSI) will be available for questions and discussions.
The 3D VIRTUAL BOATH will be open this Saturday, October 24, 2020 for all visitors until the time change (!).
All entrance free of charge – tickets among others here: https://ti.to/3d-booth/spiel2020 !
WIN: https://download.conferomatic.com/3d-virtual-booth-win.zip
MAC: https://download.conferomatic.com/3d-virtual-booth-mac.dmg
Also join our SHRITTLE HUNT in the HeidelBÄRen world and follow the signs of the SPICY arrows! Or take part in the common Scavenger Hunt across all 3 worlds – will you find the places you are looking for (see pictures)? To participate, just post your own pictures with you and the hashtag #3Dvirtualbooth #spieldigital2020!
Talking about SpielDigital2020 – this is also the discount code for visitors of the 3D world to get now available goods in our online store at a lower price – TIP: our new products ANANSI and COYOTE are already available – postage free limits apply independently (look at the big last picture..).
Valid for orders until Sunday, 25.10.2020 at 23.59h CEST. Have fun at the SPIEL.digtial and at the 3D VIRTUAL BOOTH! Your HeidelBÄR!