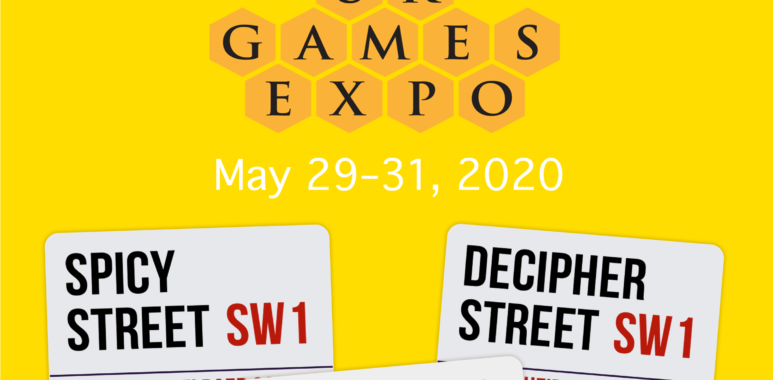 Events
HeidelBAER-News
News
Raffle
UK Games Expo 2020 Street Name Contest
May 29-31, 2020 – As a first time exhibitor HeidelBÄR GAMES is proud to be chosen as one of the sponsors of UK Games Expo for 2020. We are really happy to become an exhibitor in the family focused Hall 2. As a first timer ourselves, we are happy to help other first time visitors from May 29-31, 2020 with extra information to find their way along inside the ever growing UK GAMES EXPO fairground and play ground. Therefore UK GAMES EXPO is delighted to welcome us – HeidelBÄR GAMES – as sponsors of the First Timer's Guide!
We have followed the development of the show for years, and had visited UKGE as our independent predecessor company Heidelberger Spieleverlag ourselves. Finding your way around is sometimes really not easy but fortunately many exhibitors – like us – will have there own street name! But what name to choose for ourselves? Maybe you can help us and vote for 1 of 4 possible names on our social media page on facebook ! Pls. raise your digital voice for
the classical name of a company street: HEIDELBAER STREET (Baer or better Bear? That is the question!)

or make us the letter artists we like to be: WORDSMITH STREET (our latest release of the new generation word game!)
or find us to be the hottest street at UKGE20: SPICY STREET (our brandnew fast and furious card game, new @ UKGE20)
or be puzzled or better decode us yourself in Birmingham: DECIPHER STREET (Decrypt? Descramble? Unscramble? What…?)
You can vote until Sunday January 12th, 20.20 h in the evening! All participants who write us an email to events@heidelbaer.de – subject UKGE2020 Street Name Contest – giving full name and adress – can win 1 of 4 possible game surprise packs consisting of 4 of our or our partners games! The result of the voting is not binding for us. Good Luck!
Where to vote again? www.facebook.com/heidelbaer.games