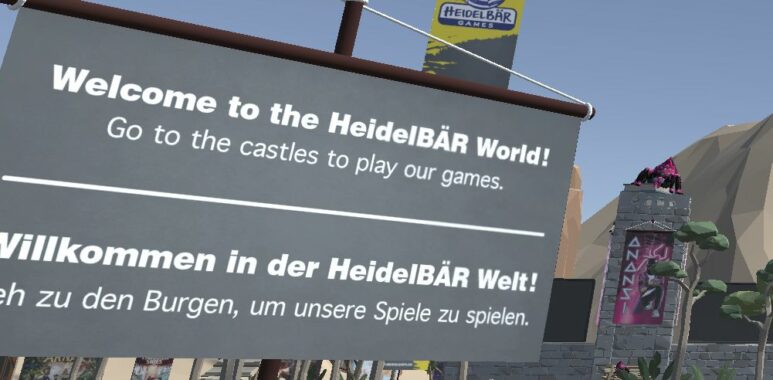 Events
HeidelBAER-News
News
SPIEL.digital with HeidelBÄR Games!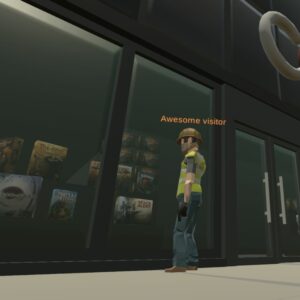 If you are in a hurry – go directly to Discord: https://discord.gg/Y48HXQ8 – We are looking forward to welcoming you at the SPIEL.digital 2020 from Thursday 22.10.2020 at 10 a.m. to Sunday, 25.10.2020 at 11:59 p.m. at our stand at www.spiel.digital. Despite or perhaps because of the circumstances, we are happy to be able to present our new products and games 2020 via this platform.
With THE KINGS DILEMMA from our partner Horrible Guild we were nominated for the Kennerspiele Award by the jury SPIEL DES JAHRES 2020, with SPICY we were directly recommended as a family game by the jury SPIEL DES JAHRES. Just as brilliant is the development of our new card game releases COYOTE and ANANSI – both produced in 'metallic' (copper and magenta) colors, they shine out of the game of the year not only because of their incredibly beautiful card quality and box. With DECIPHER (test me on https://tabletopia.com/games/decipher) there is also a Master Mind moderately large word puzzle game on offer, which really lets everyone decipher words.
NEW – COYOTE by Spartaco Alberterelli (Ausprobieren unter https://tabletopia.com/games/coyote)

Ages 10+ | 3-6 players | 20-30 minutes

HeidelBÄR Games' redesigned version of the classic game Coyote with completely revised rules!  Featuring gorgeous new art by Yupik Alaskan Native illustrator, Zona Evon Shroyer. Coyote is a dynamic bluffing game with high replayability that will prove to be great fun for the whole family.
In addition, we call with ROLL THE DICE from the Netherlands for a cheerful GAME HUNT at https://spielhunt.rollthedice.nl – you have to search something on our site and win a digital surprise!
MEET THE GAME DESIGNERS (almost) – FACE TO FACE – on Saturday, October 24, 18. 00 o'clock CEST, everyone comes to our 3D world to meet and chat with the game designers, including Jim Dratwa (Anansi), Emresion Matsuuchi (Volt), Lorenzo Silva (The Kings Dilemma et al), Mín (Lost Ruins of Arnak), Tomáš 'uhlík' Uhlíř (Under Falling Skies), Fillip Neduk (Sanctuary, Adrenaline, Goblins)], and others.
And with the German games from Czech Games Edition (LOST RUINS OF ARNAK, UNDER FALLING SKIES) and twice more Horrible Guild (VAMPIRE VENDETTA, UNICORN FEVER), we will also have more insanely valuable games on offer that will simply make all hearts beat faster.
NEW – UNICORN FEVER by Lorenzo Silva and Lorenzo Tucci Sorrentino. Art by Giulia Ghigini. (Ab zum Regenbogen testen unter https://tabletopia.com/games/unicorn-fever )

Ages 14+ | 2-6 players | 40 minutes

A tactical betting game where unwitting unicorns and their mindless desire to run on rainbows are exploited by unscrupulous citizen of the fairy realm for profit… and glory!!
Do you also miss the personal attendance of game events? Of course, we do! In today's world we humans simply don't have many opportunities to meet other and new people and like-minded people just like that, to talk to them personally or just to do some stupid things together.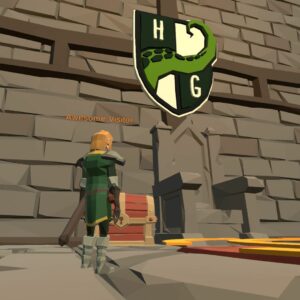 In short_ we have a deficit of human contacts. Our 3D VIRTUAL BOOTH gives you back some of that feeling, roaming around, meeting people by chance! And of course you can also play our games from there!
The 3D Virtual Booth is a cooperation between Horrible Guild, Heidelbär Games and CGE. Download our client, register for a free ticket and enter a 3D room where you can meet people in person, play games together, chat and have fun. You can also take part in our "treasure hunt" and the "scavenger hunt": Find the hidden eastereggs and take screenshots of them in all three worlds and the central world, and win the great games of all three companies! For all participants from Germany and Austria, there is also a surprise during the opening hours at
FRIDAY, 23.10.2020 ab 16h CEST / UTC+2 und
SATURDAY, 24.10.2020 ab 16 CEST / UTC+2
HERE is the way to your TICKET: https://ti.to/3d-booth/spiel2020 – (you will receive 2 emails, a confirmation, then a message with your ticket and access code, similar to 1A2B-1) ATTENTION: Check the login info (in english language) and pay attention to the requirements for your devices, no mobile devices are allowed.
But enough written, now it's finally: Game On at SPIEL.digital and the 3D VIRTUAL BOOTH!
ALL GAMES PLAYABLE through the CASTLETRICON 3D world, in partnership with tabletopia:
ANANSI by Cyril Blondel & Jim Dratwa
Ages 10+ | 3-5 players | 30 minutes
Anansi is a unique trick-taking game with high replayability and a beautiful message to inspire people. Set in the powerful African story-world around famous Anansi, the so-called Keeper of Stories, and illustrated by artists from the African continent.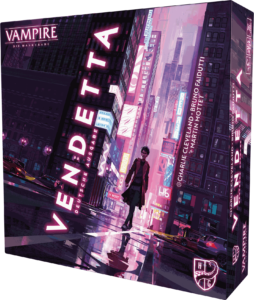 VAMPIRE: THE MASQUERADE – VENDETTA by Charlie Cleveland and Bruno Faidutti. Art by Martin Mottet.
Ages 14+ | 3-6 Players | 30 minutes
A competitive card game set in the Vampire: The Masquerade universe! Join one of the vampire Clans of the Camarilla; build your hand, play cards and blood to earn the control of powerful Allies and precious Influence points; your goal is to conquer the role of Prince of Chicago!
UNDER FALLING SKIES by Tomáš "Uhlík" Uhlíř
Ages 12+ | 1+ players | 20-40 minutes
Under Falling Skies is a solo game with a multi-mission campaign. In each mission, you take charge of defending a besieged city. Your actions are powered by an innovative dice placement mechanic where every choice is both beneficial and detrimental. Fight the invaders city by city. Build a team from around the globe to save your planet and defeat the aliens!
LOST RUINS OF ARNAK by Mín and Elwen
Ages 12+ | 1-4 players | 90-120 minutes
Lost Ruins of Arnak combines deck building, worker placement and resource management in a game of exploration and discovery. Lead an expedition to explore the island, find lost artifacts, and face fearsome guardians, all in a quest to learn the island's secrets.