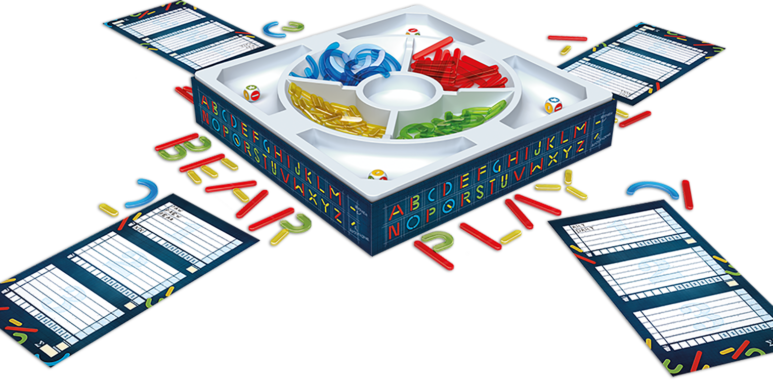 Don't scrabble: WORDSMITH explanation video out now!
With creative word building game Wordsmith from HeidelBÄR Games you can build words in competition, literally: because instead of letters you have letter parts in exactly four different shapes. The LETTER PIECE ALPHABET will have you searching for the right parts of letters to build the best letters and of course the most valuable words. The video on how to do this exactly is available in Englisch language – have a look!
As Wordsmithis played with these semi-transparent plastic parts, a special plastic insert also makes the game box itself part of the game. So the parts can be easily taken out of the box and everyone has his own cube area in his corner of the game box.
At the same time everyone builds words from their parts. Long words give the most points, but on the other hand you want to build as many words as possible before a round ends in Wordsmith. This is done in this exciting competition after six words, of which no word may be scored twice. Of course, there is a little twist: Everyone must always discard the letter parts that he or she does not need for a word. And only those who discard a few parts will receive bonus points at the end. But if you don't get more LETTER PIECES by throwing dice, you have no chance to form longer words. Wordsmith can also be played in rounds, solo variants or with special rules for advanced players.
The idea for the first LETTER PIECE GAME, in which abbreviations like YOLO do not count, came from the game authors Bill Eberle, Jack Kittredge, Greg Olotka and Peter Olotka, who can be known for classic games like Cosmic Encounter, Dune or Hoax. With Wordsmith they have created a fast word building fun, which is a real brain teaser for up to four players!
Don't forget to have a look at our other LETTER PIECE GAME Decipher! Due to the circumstances of our times, Decipher has been released in Europe and will release in the US, End of May/June!
You can order both games at your local friendly flagship store or alternatively at https://shop.heidelbaer.de – shipping internationally.
On the product pages of the games you can find out more about Wordsmith and about Decipher!