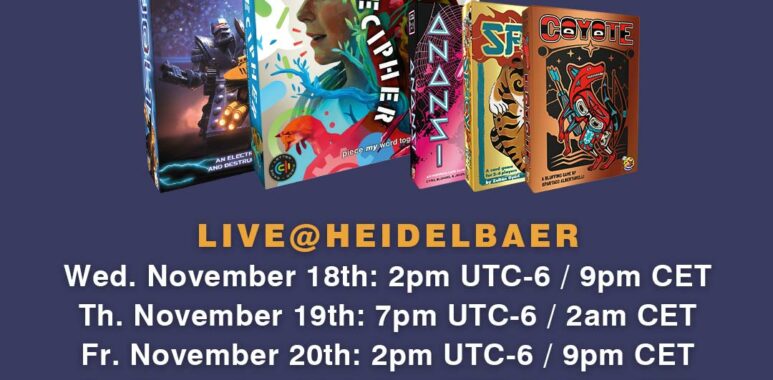 HeidelBÄR Games takes part in BGG@Home 2020! The online convention takes place Wednesday, November 18th through Sunday, November 22nd! Over five days and nights, you´ll have the chance to play our games on various digital platforms. Experience our brand new card games ANANSI and COYOTE coming to the US this winter on TABLETOPIA first. We will teach and play with you! Just look up our many gaming slots in the event schedule!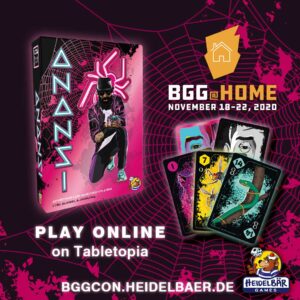 Despite the challenging circumstances, we are able to present ANANSI through a digital realization and with its unusual design and game mechanics, we were able to create a lot of enthusiasm among players in Europe. Now the physical version of the best* trick-taking game will come to the USA!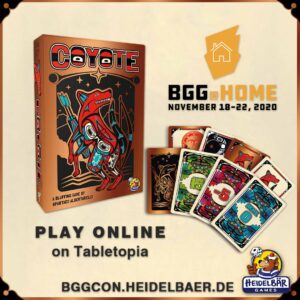 HeidelBÄR Games' redesigned version of the classic game COYOTE with completely revised rules! Copper is firmly rooted in the tradition of the tribes of the northwest coast, where coyote is thematically located, as a symbol of prosperity and cultural wealth. Featuring gorgeous new art by Yupik Alaskan Native illustrator, Zona Evon Shroyer, Coyote is a dynamic bluffing game with high replayability that is great fun for the whole family.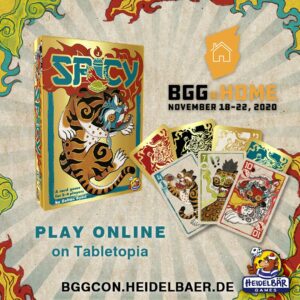 Sign up for a round of SPICY being played on tabeltopsimulator and NEW also on tabletopia for demo. Or even setup a game yourself in this free-to-play version. This card game is surely the hottest bluffing game with pouring cats the world has ever seen! Recommended best family card game 2020 by the Jury of SPIEL DES JAHRES! Live-Stream features designer!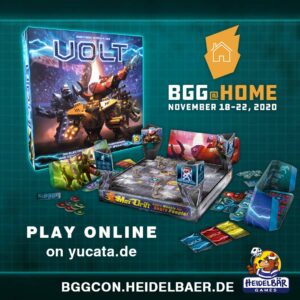 Play VOLT. the fight of robots in four different battle arenas around the globe, online on www.yucata.de simultanously with others – there are slots against the designer too. How many can he take on and beat in this robot programming battle game? Signing up at www.yucata.de is completely free and the platform is even free of advertising. Great fun for gamers!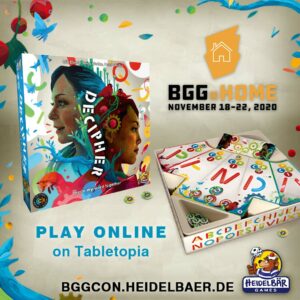 We and at special times the game designers will provide game rounds for our game DECIPHER too! So come play with us or start your own game! See our Live Stream for DECIPHER or play directly with us and maybe the designers on our discord channel – or both! Sign up at BGG@home for our listed events!
JOIN US on our discord server now and get to know us, we are looking forward to the best four days of gaming with you!
Don`t forget to sign up for BGG@home, if you have not already and claim your free-of-charge badge – after that, you can join!
*according to Zee Garcia about Eternity, the previous version he had tested back then.