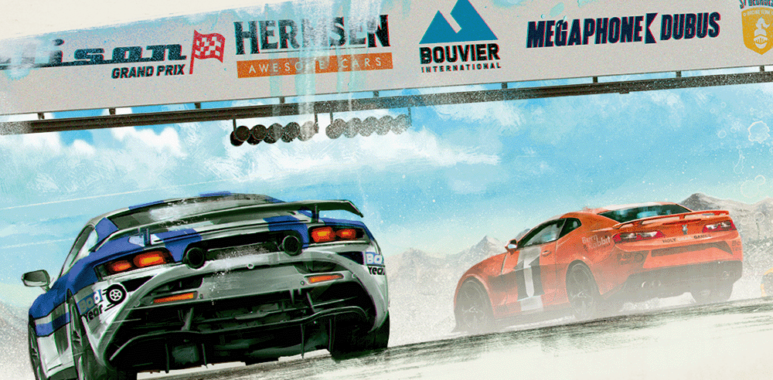 Rallyman: GT and expansions available now
The traffic lights turn green – the race begins! The fast-paced racing game Rallyman: GT by Jean-Christophe Bouvier has now been published in German for the first time by HeidelBÄR Games and is available online and in well-stocked specialist shops. The game is a revised version of Rallyman, published by Holy Grail Games in 2009, and offers even more variety thanks to the modular game board. In addition to the basic game, some expansions, with new cars and new track parts will also be directly available. In 2020, the game was on the nomination list of the Board Game Quest Awards in the categories of best thematic game and game of the year Rallyman: GT will be available to buy online in the next few days, as well as at well-stocked retailers.
Grab your dice, now it's off to the racetrack
At Spiel 22 in Essen, you could already take a look at Rallyman: GT and the expansions. To succeed in this fast-paced and tactical racing game, you need a good strategy and a portion of dice luck. But before you hit the track, it's a matter of building it. While the old edition of Rallyman included a normal game map, Rallyman GT comes with 31 double-sided hexa tiles. This gives you a lot of flexibility and allows you to race on many different tracks. The manual suggests some – short and long – racetracks, but of course you can also be creative yourself. You can choose between tracks in the countryside and in the city. Whether alone or with up to six people, the racing feeling is guaranteed.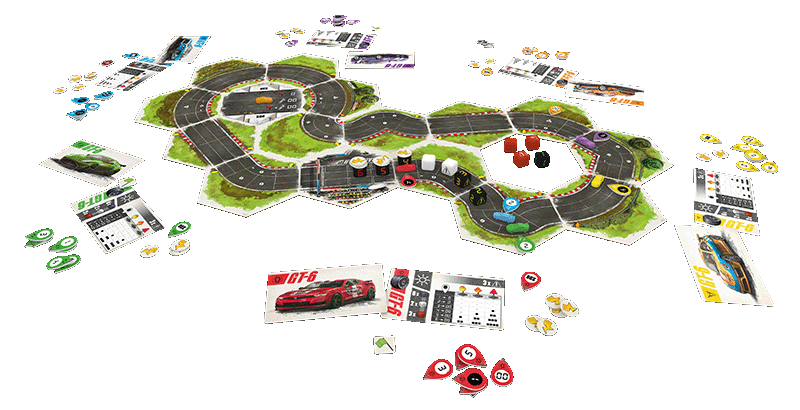 Rallyman: GT uses an innovative dice mechanism that rewards both strategic decisions and risk-taking. Plan your move and place the respective dice on the track. A cube must be placed on each field you wish to drive on. You can choose between gear, idle and brake cubes. These cubes indicate the speed of your car and must also match the conditions on the track. For example, a curve cannot be driven as fast as a straight line.
Once you have planned your drive, the dice are rolled. If you want to play it safe, roll each die individually, and you can end your turn at any time. Each time you roll the dice, you will move your car forward one space. But beware, if you roll too many dice, you run the risk of losing control of your car, spinning and possibly even going off the track.
Or do you prefer to take full risk? In that case, roll all the dice at once, and you won't be able to stop the move before it's over. If you succeed, you will be rewarded with focus tokens. Focus tokens will help you in the rest of the race, as they guarantee a successful dice roll. Keep in mind that you will not be alone on the track, but will be competing with others for victory the entire time.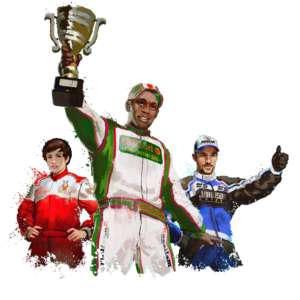 Just like in a real race, the weather can change and present you with new challenges. Will you head to the pits and change your tires, or will you stay on the track and hope the shower passes quickly?
How the race ends is up to you: Do you race for one or more laps, or do you race for a season over multiple races?
Even more racing fun through expansions
At the same time as the basic game, several expansions will also be released to make the racing experience even more varied.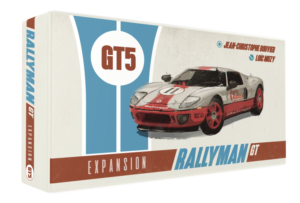 The car expansion GT5 is directly available and brings a new car class, the GT5 cars, into the game. The cars come possess only five gears, but also a turbo cube that allows them to accelerate quickly.
With the included balance cards, the new cars can also be combined with the cars from the base game.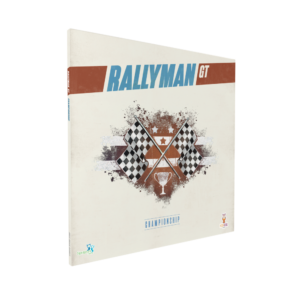 Rallyman: GT Championship lets you simulate a championship over 8 races on 8 different tracks. Thus, depending on your ranking, you'll collect points after each race. You can also award a team mode and a prize for the best team.
With the expansion, you get more focus tiles and 12 brand-new track parts. These have fields that extend beyond the edges of the respective track section and make the racetracks even more varied.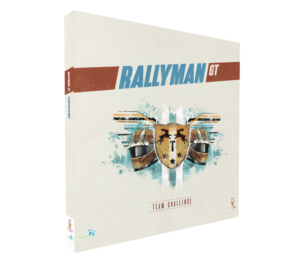 Not enough cars on the track yet? Then, Rallyman: GT Team Challenge offers you the possibility to play with up to 12 cars. In addition to more cars, this expansion also comes with new track parts. With the Crossroads track part, you can now build an 8-car course with two loops or two standalone racetracks. Lots of cars means congestion on the track. Of course, it can be advantageous to block the others, but with 12 cars this can happen very quickly. Wider track sections with up to four fields wide will remedy the situation.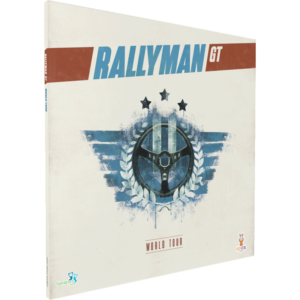 Rallyman: GT World Tour lets you recreate 10 famous racetracks from all over the world. Among them are tracks from Germany, Sweden, Monaco, Italy or France. Also in this expansion you get track parts, whose fields extend beyond the respective track part, and additional focus tiles. All expansions can be easily combined with each other and allow you an even greater variety of racetracks.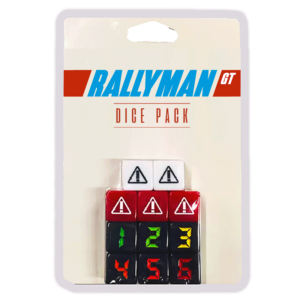 Rallyman: GT Dice Pack includes another set of dice. You get 6 gear, two idle and three brake dice.
With the dice set, you don't need to share the dice from the base game anymore, but can play with your very own dice.
Rallyman GT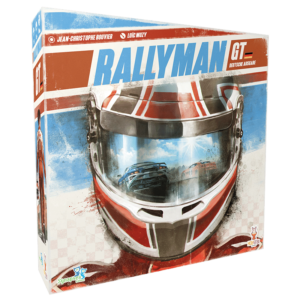 Rallyman GT is by Jean-Christophe Bouvier and offers fast-paced racing fun for 1-6 people aged 14 and up. The game is now available in German for the first time from HeidelBäR Games. Rallyman GT includes 31 double-sided track pieces, 12 dashboards, 6 driver cards, 1 lap marker, 1 damage marker bag, 160 focus tokens, 1 pit stop piece, 6 cars, 48 gear indicators, 42 damage markers, 11 dice, and 1 rulebook.
New Cars in the new year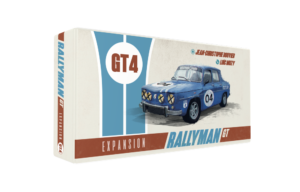 For the new year, you can look forward to more new cars. Unfortunately, there was a misprint during production, so that it did not work out with the GT4 Auto-Erweiterung this year. But in the new year, you will get the chance to race with the new cars on the track. The GT4 cars can drive in 4th gear at most, but include an additional idle cube. This brings you even more variety on the racetrack!