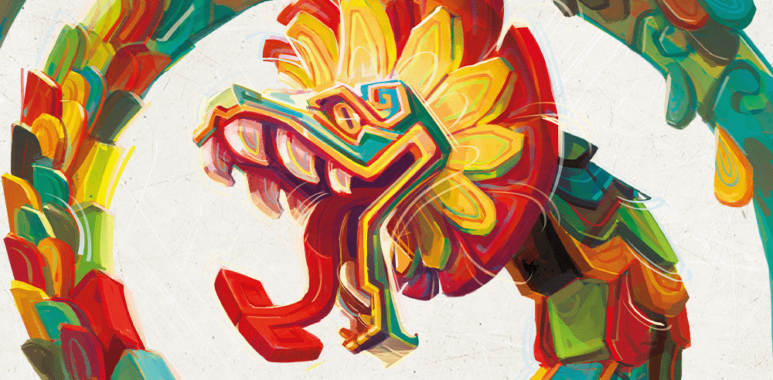 HeidelBAER News
News
Synapses Games News
CÓATL – The card game is now available
Cóatl – The card game is a new game variant of the board game Cóatl and has been published for the first time in German by HeidelBÄR Games. The game is by Pascale Brassard and Etienne Dubois-Roy and, like Cóatl, published by our partner publisher Synapses Games. The interactive card game is available online as well as in stores for MSRP €14.95.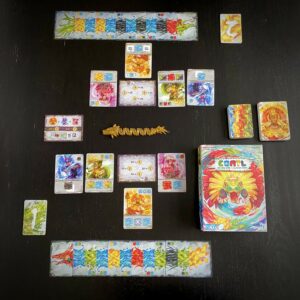 Interested parties were able to get a first glimpse of the game at the game fairs in the last few weeks, and now Cóatl – The Card Game has made it to retail.  The interactive card game is a completely new variant of the well-known board game Cóatl.
The high priest of the Aztecs has determined that the walls of the temple Tenochtitlan Quetzalcoatl should be decorated with masterpieces. To find out who deserves this honor, a competition is called. In this competition, you'll have to win the gods' favor by painting patterns that they desire the most. This way you can impress the high priests and go down in Aztec history with your art.
Over four rounds, you'll take turns attaching cards to your Cóatl before finishing it off with a head and tail in the fifth and final round. Ideally, you'll play feathered cards that allow you to fulfill prophecies and earn points. Plumage cards may be placed so that they are adjacent to or (partially) overlap cards that have already been placed.

Whoever has created the most prestigious Cóatl after the fifth round wins the game. But be careful, because prophecy cards can be stolen from you during the game.
Will you manage to impress the high priest with your artwork and get the order to decorate the temple?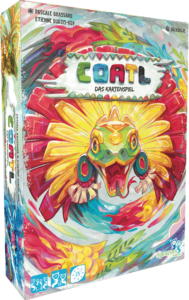 Cóatl – The card game is for 1-4 people aged 10 and up and one game lasts about 25 minutes. The interactive card game by authors Pascale Brassard and Etienne Dubois-Roy includes 50 plumage cards, 20 each head and tail cards, 40 prophesy cards, 6 temple segments, 4 level cards, golden round markers (4 body segments, 1 head and 1 tail, and 2 additional body segments) and a rule booklet. The game is multilingual and includes English and German.
Cóatl – The Card Game is available online and in stores for MSRP €14.95.